Worked All Nova Scotia Counties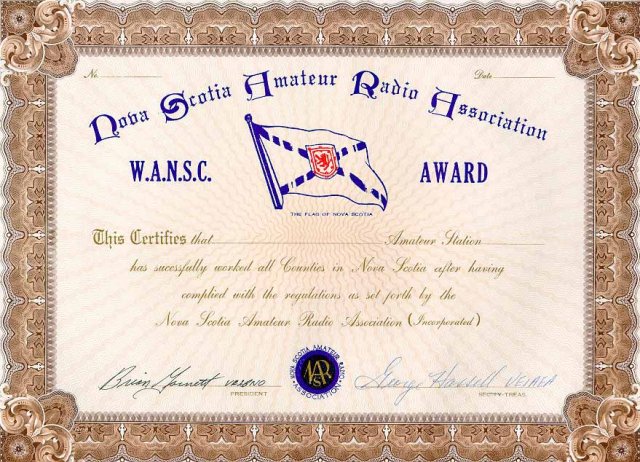 The Worked All Nova Scotia Counties Award will begin as of September 11, 1993.
The award will require an amateur radio operator to contact all 18 counties in the Province of Nova Scotia, and obtain QSL cards verifying the contacts.
Stations making a "CLEAN SWEEP" in the NSARA CONTEST in March of each year, will also qualify for the award WITHOUT submitting QSL cards to prove the contacts.
The BASIC AWARD will be for MIXED Modes. HF bands only. Basic Award numbering will begin at #1. Endorsements will be available for: All CW, All Digital, and All Phone.   Requests for endorsements must be indicated on application.
Application forms will be available through the NSARA at Hamfests, Flea Markets, on the NSARA Web Page, or by sending a request to the Awards Chairman, listed below.
There will be no fee for this award. Certificates and QSL cards will be returned postage paid by the NSARA.
Certificates will be numbered on the basis of earliest postmarked package received and also on NSARA Contest Placement.
Actual QSL cards only, will be accepted. No fax or photocopies.
Contacts made beginning on September 11, 1993 and later will be accepted.
This award is intended for BASE STATION to BASE STATION contacts.

Portable operations, i.e.: Summer Cottages, DXpeditions to rare counties will be accepted, with the Awards Committee being the final judge of validity of any such portable operations for award credit.
Mobile contacts will not be considered for this award.
Portable contact cards must clearly indicate the county of operation if different from the operators' home county.

All 18 QSL cards, accompanied by the official application form can be sent to:

Awards Chairman
Mr Jim Hannon, VE1AFH
RR # 5
Amherst, NS     B4H 3Y3

"Clean Sweep" entries in the NSARA Contest will automatically receive their Award Certificates.


The Awards Chairman will make the final decision on all matters pertaining to this award.