NEWS & EVENTS
---
Updated Forms for WILDFIRE Exercise

Waccasassa Forestry Center
5353 NE 39th Avenue
Saturday June 9th 0900 AM
On 39th Avenue. East of the Airport. 1.9 miles East of Waldo Road facility is on the south side of the road.
Across from Lamplighter Mobile Home Park.

If you want to get trained on the tower system, meet at 0800 on Friday June 8th.
Bring hats, sunscreen, water!!

NEED MORE PORTABLE HF RIGS FOR THE EXERCISE -- AND SOME ANTENNAS TOO!


---
ExtremeWeatherHandoutForOurArea

---
NEW SOUNDCARD INTERFACE BOARD SUCCESS
FAR FAR CHEAPER THAN PREVIOUS VERSION BOARDS
FITS INTO ROSEMARYs TWININGS TEA TINS


The two sections of the board have (isolated) DIFFERENT grounds --- the transformers & relay keep them isolated. The stuff in the yellow boundary has RADIO ground; the remainder of the circuit has COMPUTER USB GROUND.


WONDERFUL ARES Meeting Last Wednesday --- worked through Five different training segments, meeting was just shy of 2 hours and spilled out into the parking lot people were having so much fun. MANY new people --- THANKS for joining --- you are VERY welcome join in on anything we do, whether you feel trained or not! Ham radio is FUN and EXCITING and sometimes CHALLENGING!



---
---
BLOWOUT ANTENNA CONSTRUCTION LUNCH N LAB
10 HOMEBREWS OF A $240 MULTIBAND ANTENNA BALUN CONSTRUCTED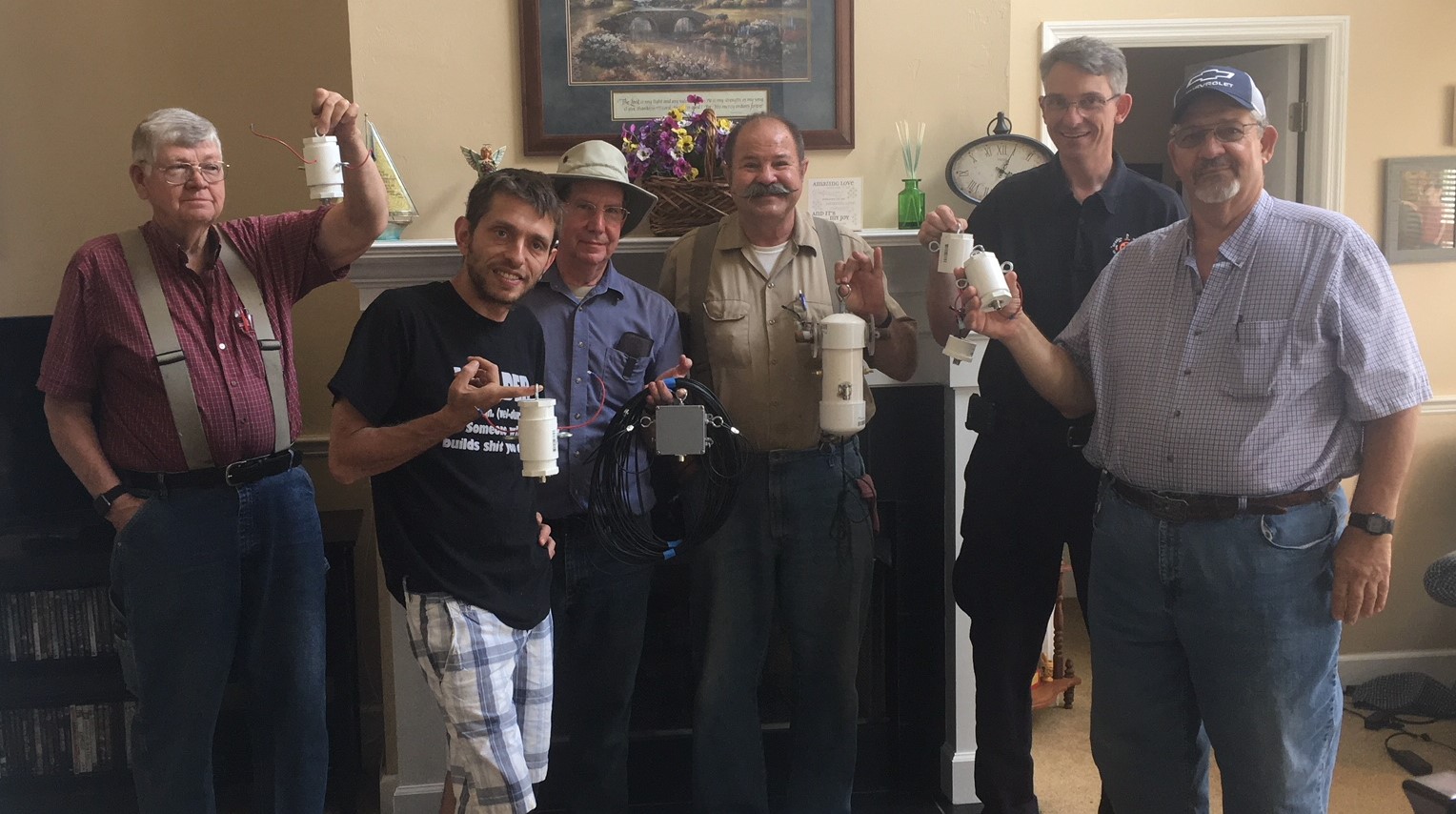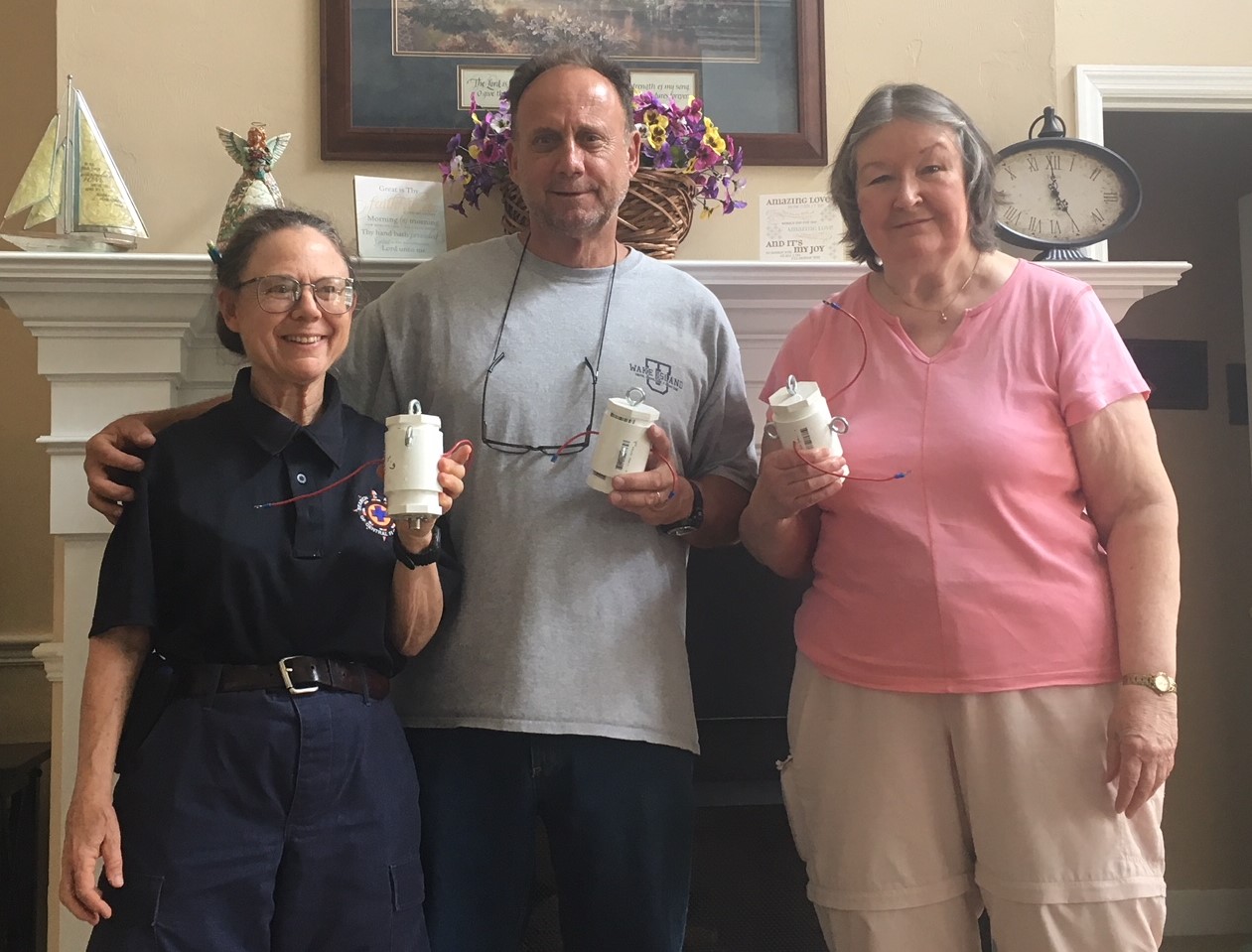 ---
Now published and on Amazon -- our copies coming in the mail....already interest from the Alaska S.E.C. and from Missouri E.C.
Amazon Shelter Volunteer Forms
New Shelter Amateur Radio Reference Booklet
---
Off Center Fed Balun Construction (LunchNLab) Manual
FIRST EOC CALL SIGN OBTAINED!!!
Background Information on MARC Units
SOFTWARE TO DOWNLOAD PRIOR TO MAY 9th MEETING:
IRFANVIEW Image Management Software
---
GREAT TABLETOP DRILL!!! John & Van held their first drill and everyone learned a BUNCH: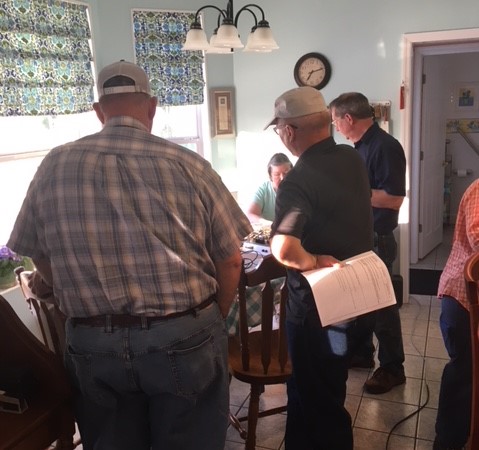 I (Gordon) was sick as a dog, but everyone LEARNED all kinds of things....how to lengthen transmission line, get on HF, adjust sound levels... propagation....big learning time!! John had huge RFI problems...still working on it....
The MARC trailer may possibly join our June 9th Exercise --- we just keep attracting more groups because we do EXERCISES!
ASSETS & SKILLS Form --
---
91 pages but very well written and includes an Improvement Plan that has several items that make a lot of sense!
Very Impressive Santa Clara CA Ham Radio Emergency Comms
---
---
Hal, KD5HW, has come up with a fast way to scan handwritten and unusual messages to send for EOC's etc in an emergency:

---



ORDER YOUR BITX transceiver SOON

if you want to build it at June or August LunchNLab --- there is a TWO MONTH ORDER BACKLOG.
Manual for 3rd Party uBitx Software

---

Printed Slide Show About the Office of Emergency Communications
This is long, and all the government abbreviations make my head spin (!) but I was given permisson to put this up for your reading pleasure. It lead me to an interesting document, the National Emergency Communications Plan:
National Emergency Communications Plan (2014)
Ham radio is on page A-16 (p 80). The big emphases in this document include INTEROPERABILITY and EXERCISES. It will next be revised in 2019.
---
List of all googled North Florida county After Action Reports / Improvement Plans (by county)
Stands to reason that if the county EM took the time to write up an After Action Report.... emergency minded hams should probably read it, right?
---
---
Starting to keep track of our skills & assets
---
Presentations from Huge March Meeting
---
WILDFIRE EXERCISE
---
Read the Alachua County Hurricane Irma After Action Report

EOCX-012.1 -- Develop volunteer plan for EOC to include Amateur Radio (Human Resources, 9/1/2018)
SHLT-006.2 -- Recruit additional amateur radio operators to staff more shelters (ACEM / CSS , 6/1/2018)
SHLT-006.3 -- Encourage shelter managers getting license (ACEM / CSS 6/1/2019) --

we could provide classes!!


SHLT-006.5 -- ANTENNA PASSTHRUS (ACEM / ACPS 6/1/2018)

SHLT-007 Shelters were in a situational awareness silo, limiting the information known to the shelter staff and the shelterees -- (ITS ACEM CSS DOH-Alachua -- 6/1/2018) ---

We may have a help for that!



SHLT-007.3 -- Increase information shared with amateur radio (ACEM / CSS 6/1/2018) --

We now have a great outlet for increased information!!





Load the document, do a search for "radio" (44 instances) and you'll find a treasure trove of information.
---
---
---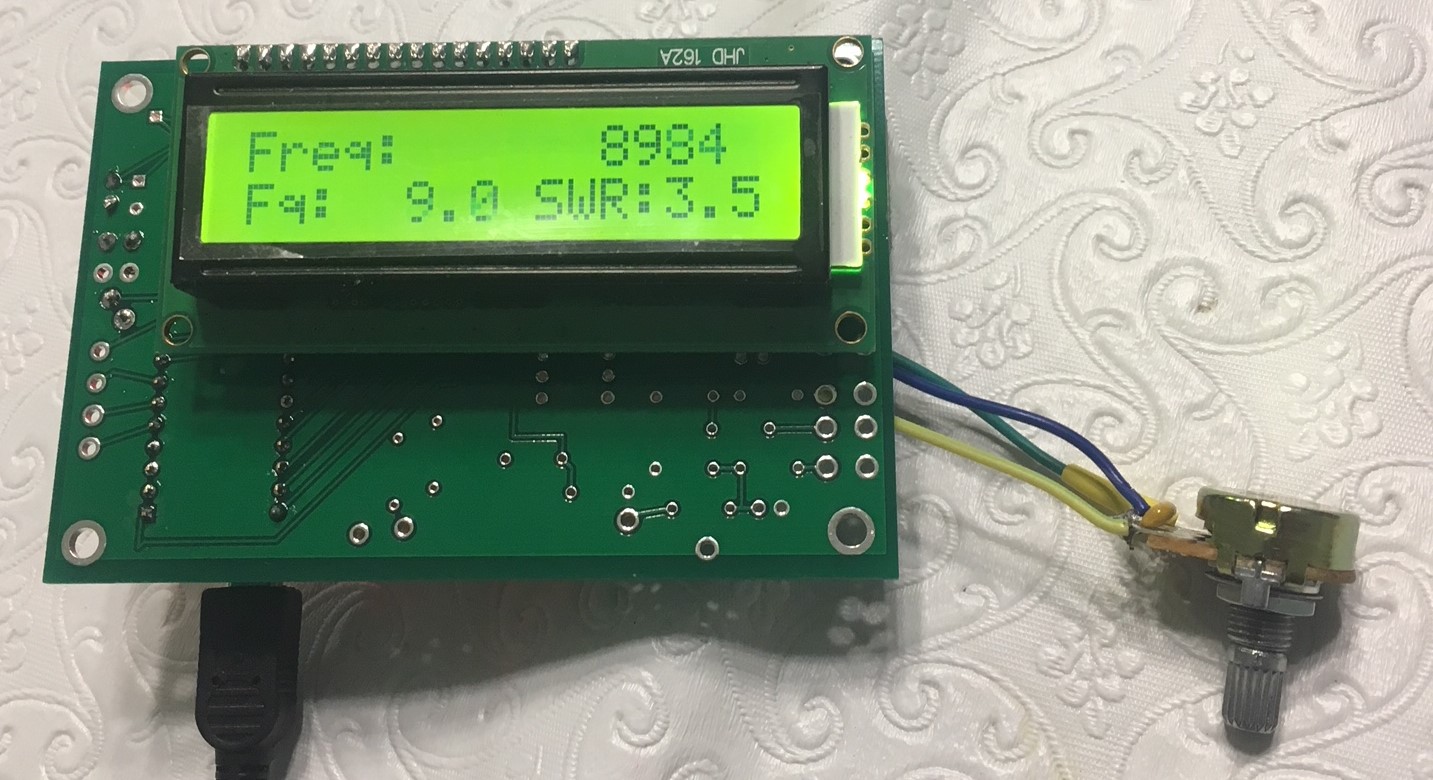 ---
---
---
---
---
---
---
---
---
---

UNRESOLVED ISSUES IDENTIFIED IN MAY 2017 HURRICANE FULL SCALE EXERCISE
| | |
| --- | --- |
| #6 | EOC inadequate antennas, both HF and VHF -- and UHF also!! |
| #7 | Simplex repeater needs more sensitive receiver |
| #9 | New transceivers for EOC to allow more frequencies to be monitored -- not installed, no extra antennas available |
| #11 | No satisfactory HF amateur or SHARES antennas at EOC -- ARES practiced slingshot temporary antennas in trees south of the building as replacement |
| #12 | Partial: unclear if the ARES member has better HF antenna tuning assets/capabilities at this point. |
| #15 | Easton Newberry antennas not installed; worse, there is no transmission cable passthrough out of building. There are no antennas at the Senior Center. |
| #26 | Winlink Peer to Peer Training -- not yet accomplished! |
Note that hard work has actually RESOLVED 23 issues!!! The ones in the table above are the identified issues from May 2017 that remain. #11 was documented in July of 2016.
---
---
SATURDAY 8/19: Jay Garlitz, Susan Halbert, Ed Gray and Gordon Gibby met at the Dental Tower and soon Jay has us ON THE ROOF again examining where we can put microwave and vhf antennas to turn W4DFU into a powerhouse Emergency Comms resource for the University & County.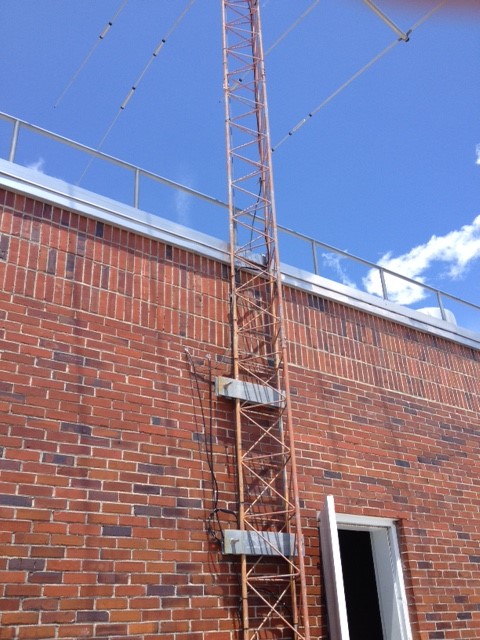 South tower on Dental roof, HF beam. Possible site for 24dBi parabolic aiming atTom's Antenna/ St.Francis/ Clay Electric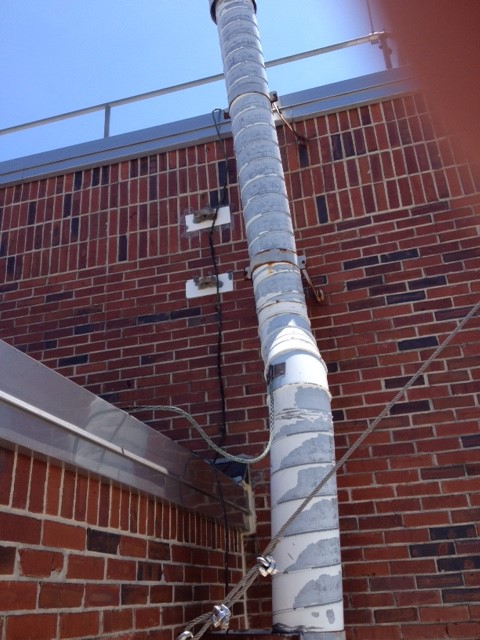 Spare brackets (on white blocks) could take a metal pole mast & hold parabolic.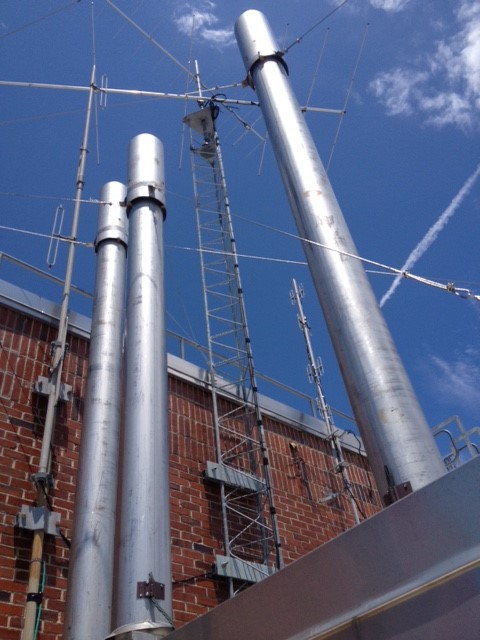 VHF tower at the North end of the Dental building -- possible site for MESH onidirectional antenna to serve the University and beyond.
From the roof, you can easily see direct line of sight to the Seagle Building South Windows.....and I have a colleague who lives on the next to highest floor.....
i
---
Three bridging stations now connect our
145.070 network of stations to other groups: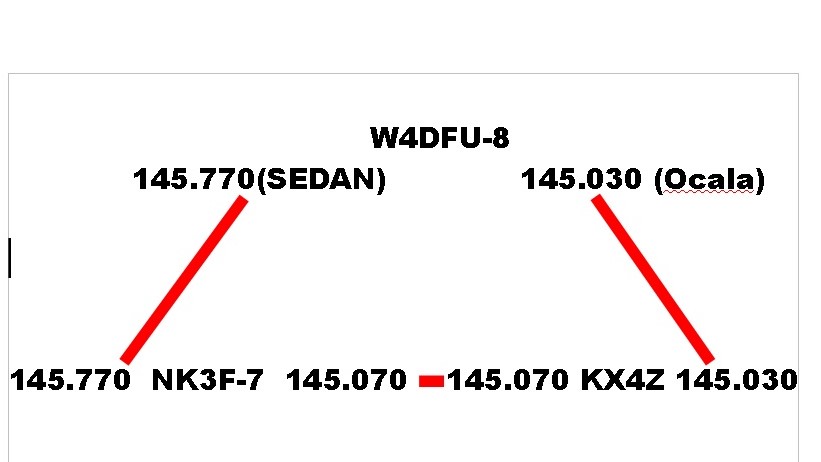 ALL PORTS WILL USE COMMON SCHEME:
Port 6 - 145.030
Port 7 = 145.070
Port 8= 145.770
---
UPCOMING MEETINGS REMINDERS
Monthly ARES Meetings: 2nd Wednesday 7 PM
Monthly GARS Meetings: 3rd Tuesday 6:30