NEWS & EVENTS
Alachua County Shelter Radio Situations - Sept 2017
(documented by Hurricane Irma Volunteers)
(THANKS TO EVERYONE WHO VOLUNTEERED!!!)
UNRESOLVED ISSUES IDENTIFIED IN MAY 2017 HURRICANE FULL SCALE EXERCISE
| | |
| --- | --- |
| #6 | EOC inadequate antennas, both HF and VHF -- and UHF also!! |
| #7 | Simplex repeater needs more sensitive receiver |
| #9 | New transceivers for EOC to allow more frequencies to be monitored -- not installed, no extra antennas available |
| #11 | No satisfactory HF amateur or SHARES antennas at EOC -- ARES practiced slingshot temporary antennas in trees south of the building as replacement |
| #12 | Partial: unclear if the ARES member has better HF antenna tuning assets/capabilities at this point. |
| #15 | Easton Newberry antennas not installed; worse, there is no transmission cable passthrough out of building. There are no antennas at the Senior Center. |
| #26 | Winlink Peer to Peer Training -- not yet accomplished! |
Note that hard work has actually RESOLVED 23 issues!!! The ones in the table above are the identified issues from May 2017 that remain. #11 was documented in July of 2016.
---
FREE-FOR-ALL TABLETOP DRILL FINDS SLEW OF ISSUES FOR THE OCTOBER S.E.T.
Oh my.....bunches of stuff DID NOT WORK properly at the beginning of our TableTop Drill --- although we did a pretty good job all the fancy ICS Paperwork.

Primarily, 2 problems:
1. The WINLINK HF station " bridge" wouldn't auto-forward emails
2. With so many transmitters so close and so many users making long multi-station linkages.....wow! Can you spell PACKET STORM???? We lerned to be a lot morec careful how we loaded the channel.

Finally got the HF station to manually forward MESH microwave-delivered emails --- several hours later with help from a west coastWINLINK guru found the errors that caused the problem --- and now forwarding is quick and automatic.

LOADS of one member teaching another as skills rose throughout the group! And Steinhatchee companies seem EXCITED to hear of our coming plans!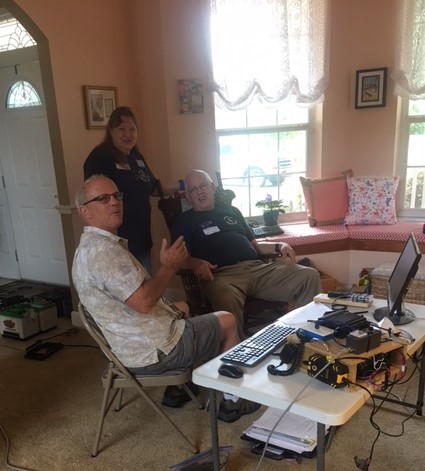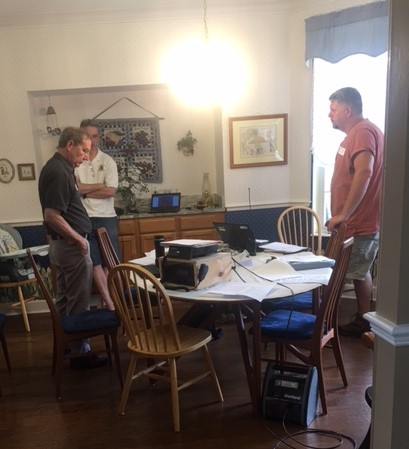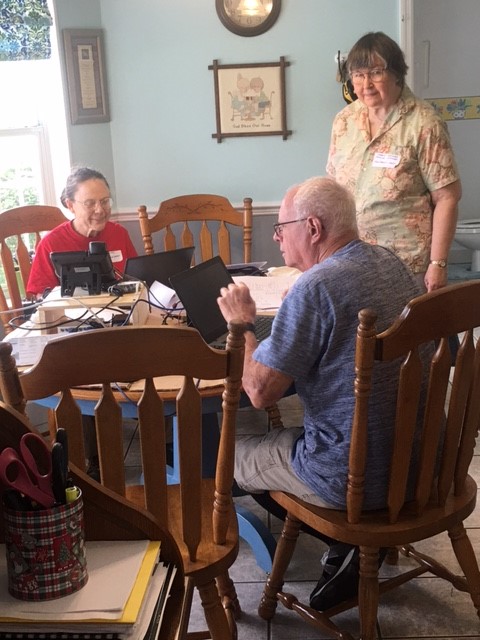 ---
THANKS TO EVERYONE WHO HELPED WITH THE HURRICANE SHELTER COMMMUNICATIONS!!!
NEXT ARES MEETING WILL HAVE AFTER ACTION DISCUSSION --- EVERYONE IS INVITED!!
Building Waterproof Shelter Go-Box VHF Radios
How-To & News Article about Alachua GOBOX Construction
(Three go-boxes put together RAPIDLY by ARES Volunteers)
---
SHANDS HOSPITAL DIGITAL STATION PLANNING

Scott Coker, a local ham and part of the ShandsCair flight team, gave me a tour of where we may be able to emplace a digital station to assist Shands in emergency comms.....but let me say that they already have an IMPRESSIVE amount of 800-MHz, etc comms all over the state -- our value-added is modest but longer-range. Our ability to both control & communicate with our systems DIGITALLY (exactly as he does) is key to this endeavor.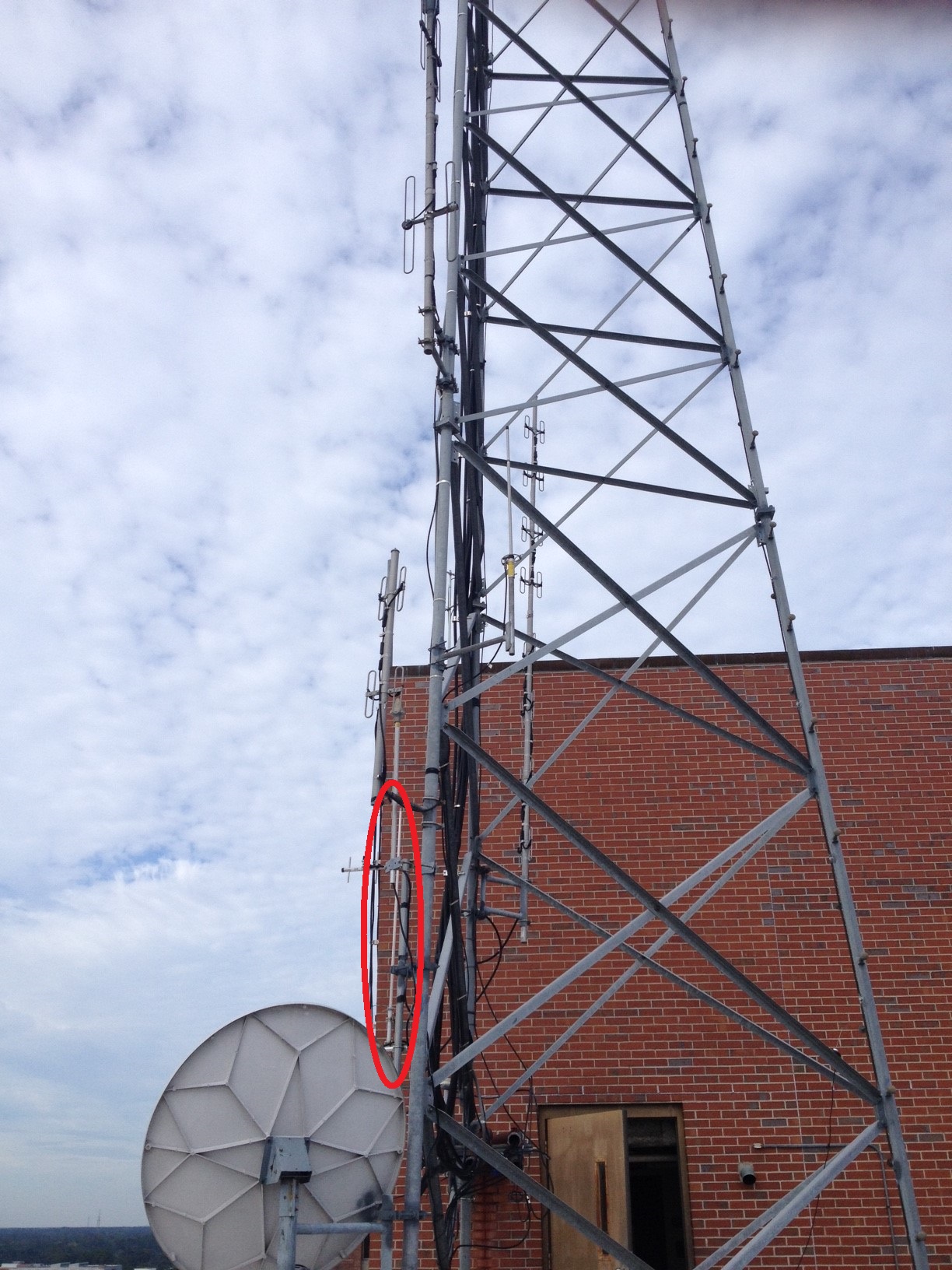 One of TWO vhf ham antennas is encircled. They aren't high, but I did successfully connect to Ocala KG4NXO-10 and NEWB with near full scale or better. TOWER WORK is planned -- and I discussed putting in a microwave system for us (of course!!)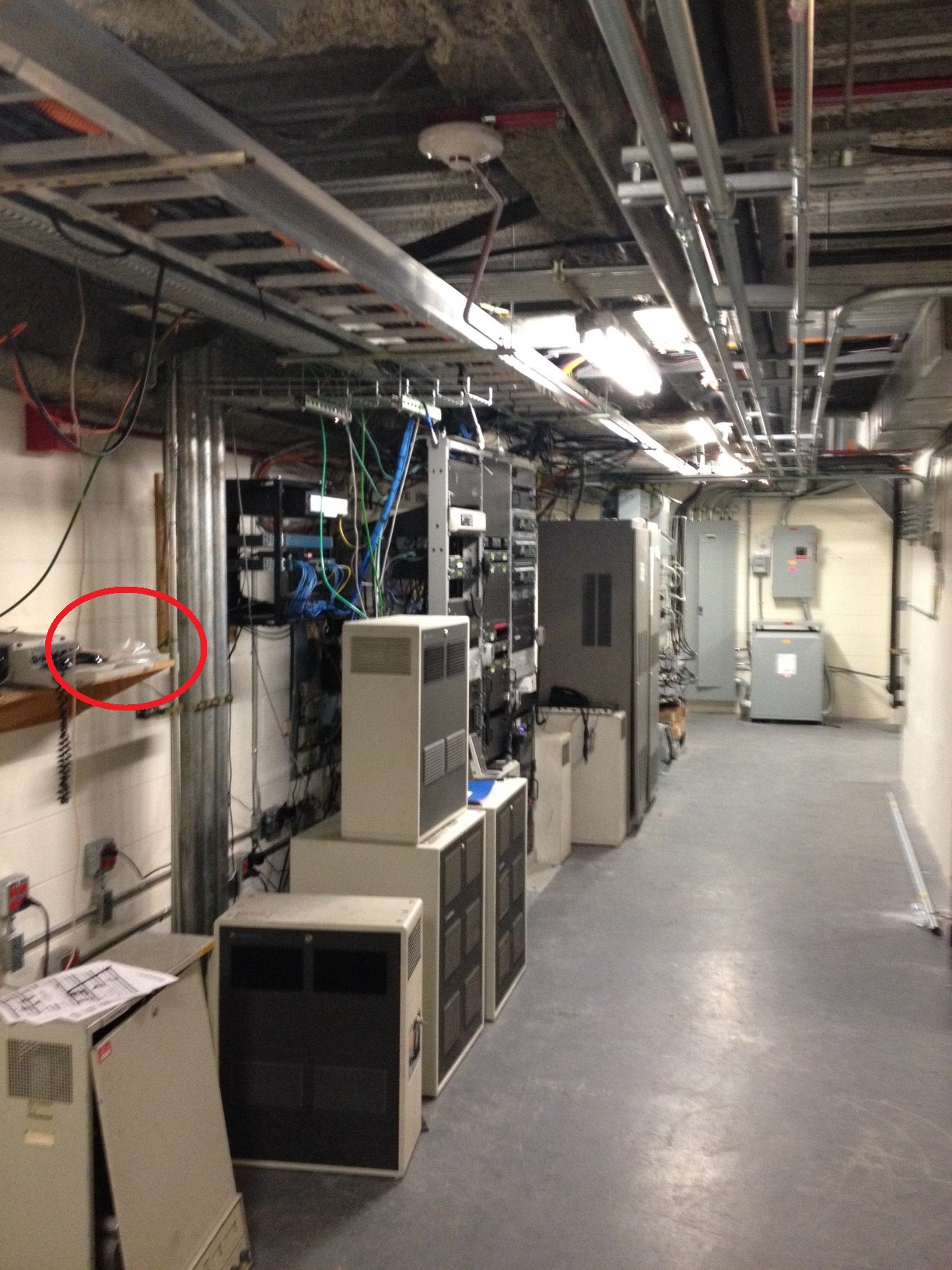 An incredible amoutn of digitally controlled repeater systems and 800-MHz etc access systems. The shelf where we can start is encircled --- but a new rack may be next for us.
---
PRE HURRICANE LEARNING OPPORTUNITY!

First "LabNLunch"

Refurbish a complete EMP-Proof SSB/DIGITAL STATION (Destined for the EOC whenever they get working HF antennas)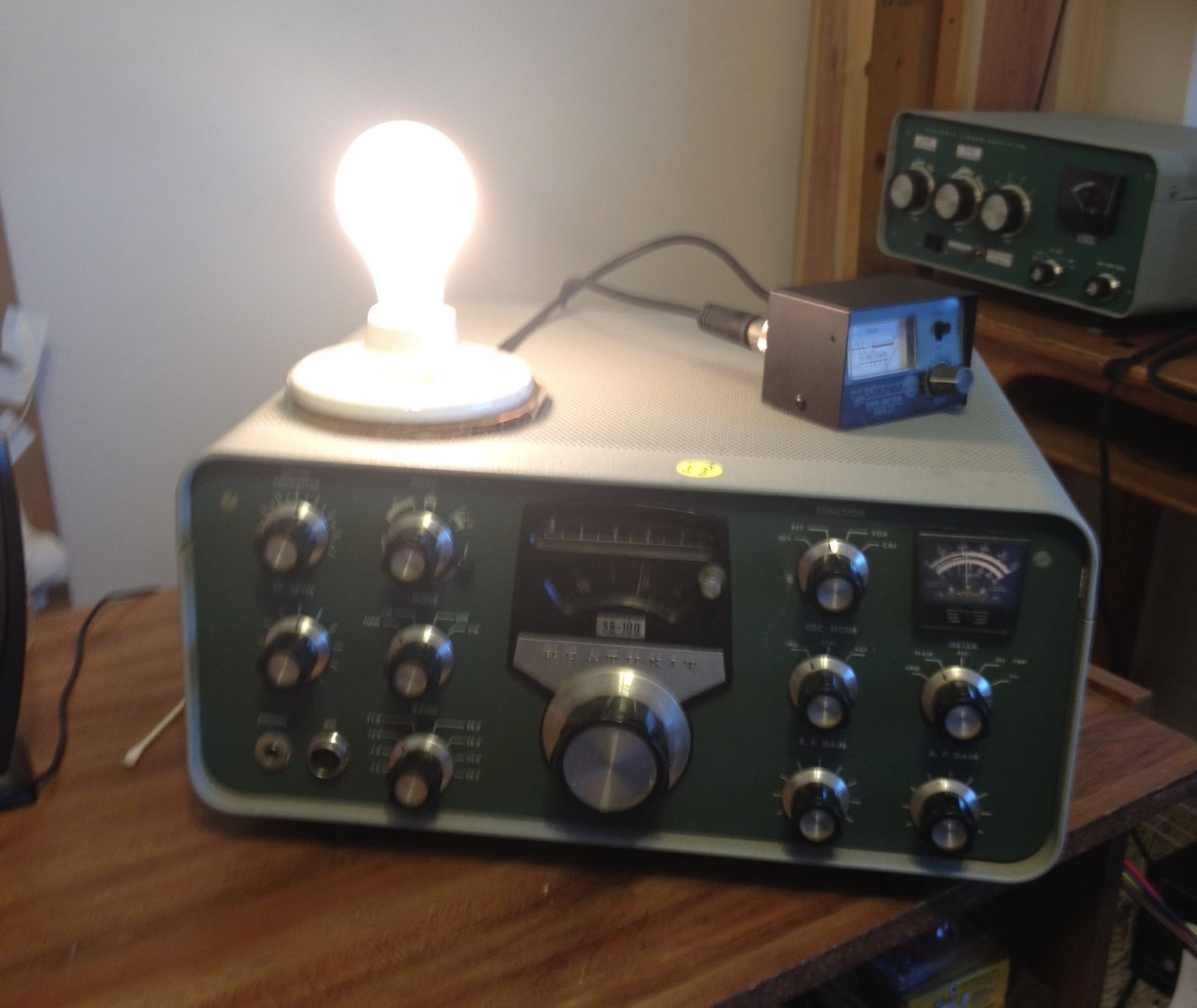 Meeting at Gordon's house, 15216 NW 41st Avenue (Gate Code #0352) at 10 AM, lunch at noon, done by 3. 352 331 6639
---
MORE DIGITAL SUCCESS STORIES

Sunday evening Susan Halbert KG4VWI made her first QSO over packet from her own home station, using 145.770 to GARC2 to KX4Z way out in Jonesville. Hooray for Susan, who reports she can also hear NK3F-7 on 145.770!!!

Ian, VA3QT in Ontario has also now succeeded at PACKET communications thanks to our web page and some email advice from us. Hooray!! He is now following our web page and suggesting his ARES group consider our simple soundcardinterface design.

Bill, KD5EUW also succeeded at digital comms after some email/forum questions/answers back and forth! Hooray Bill!

---
W4DFU-8 GARC2 is now upgraded with High Endurance microSD chip and the newer RAMdisk configurations to try and push our "mean time between failure" up another order of magnitude. Other stations with this upgrade now include: NF4RC-7, KX4Z-7/10, NK3F-7/10 and KM4YGH-7/10.

---
A $58 20-meter antenna...a new General & an 8-year-old make for GREAT FAMILY TIMES!!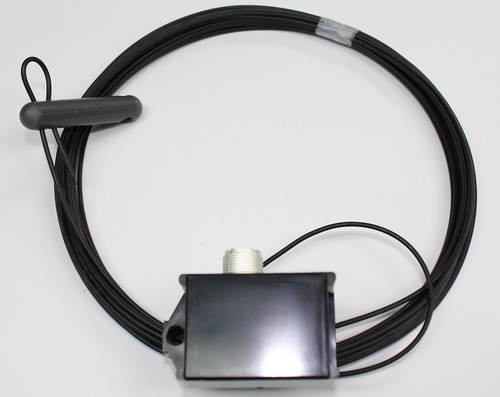 PAR 20meter End fed antenna -- now manufactured & sold by LNRPresicion.
by Jim Bledsoe, KI4KEA
"Ham radio has been an interest of mine since my late cousin Harry sent me my first rig. It is a Drake series transmitter and receiver that we used to listen to stations around the world.
Life goes on and the radio remained but was not used much through work, college, marriage and family.
Until recently, when I progressed from technician to general. With one end-fed antenna running from a 100 Watt Yeasu 857D, the world changed. Heartbeats increased as a simple wire brought in the first real pile up I have ever heard. It was British Columbia!
After a few days of listening intently, I had the courage to throw my signal at a man in northern Italy. The next call was Slovenia. Two days ago, I lost Tokyo with the sunset.
The world opens when you can use HF frequencies. In the last few weeks, my eight-year old daughter and I have been searching maps looking for cities, towns and countries around the world. It has become an even greater educational tool.
If you have a technician license, you should consider upgrading. There is an entire world of communications you are missing.
Jim
73s
SATURDAY 8/19: Jay Garlitz, Susan Halbert, Ed Gray and Gordon Gibby met at the Dental Tower and soon Jay has us ON THE ROOF again examining where we can put microwave and vhf antennas to turn W4DFU into a powerhouse Emergency Comms resource for the University & County.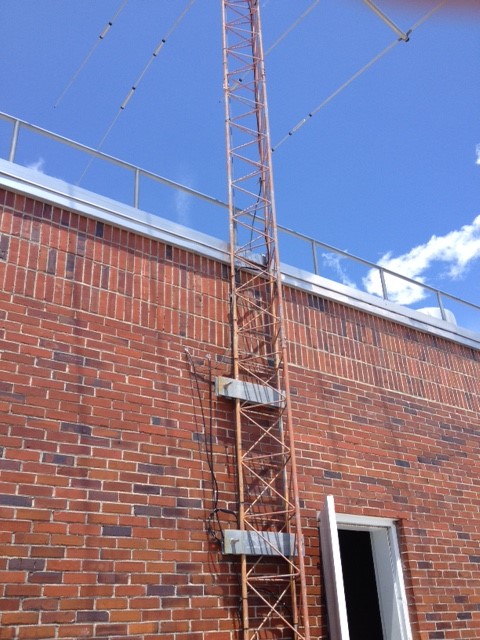 South tower on Dental roof, HF beam. Possible site for 24dBi parabolic aiming atTom's Antenna/ St.Francis/ Clay Electric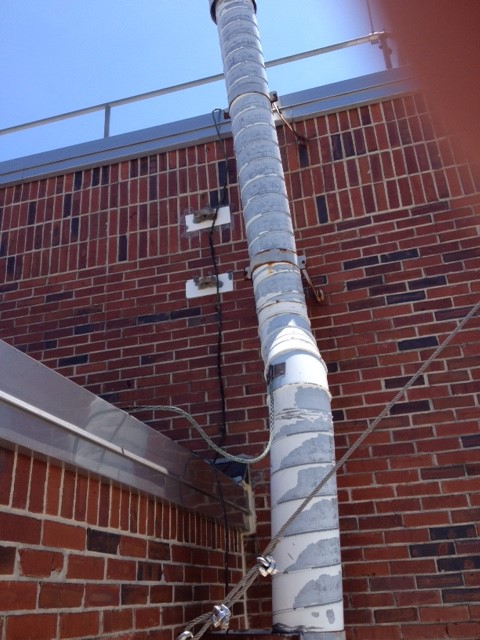 Spare brackets (on white blocks) could take a metal pole mast & hold parabolic.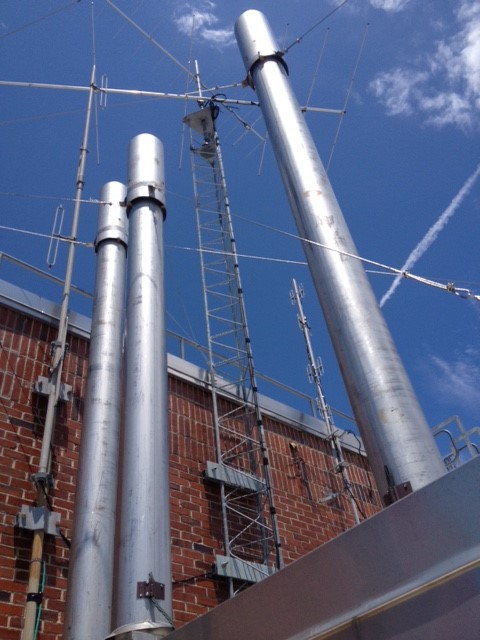 VHF tower at the North end of the Dental building -- possible site for MESH onidirectional antenna to serve the University and beyond.

From the roof, you can easily see direct line of sight to the Seagle Building South Windows.....and I have a colleague who lives on the next to highest floor.....

Major Congrats to Vann for Success at Packet Unconnected Comms

KX4Z Gordon

W4LTE Shawn

AC4QS Vann

Cindy KM4YGG

Art KM4YGH

Jeff W4UFL

John KM4JTE

were all able to receive and send keyboard comms using the tricks with EasyTerm that Vann discovered and taught!

Perhaps we'll have an SSTV practice also?

Power Over Ethernet Injector -- made inexpensively from a commerciallly available product -- cut off their connector and you find a RED (+) and BLACK(-) wire -- Put 20-24 vdc on these wires and the big black female connector has POE! Allows you to build a Microwave Go-Box that can run from 12V (battery or vehicle) and still power NanoStation or Bullet.

$7 POE Injector (you actually get TWO)
VHF/UHF Forward/Reflected
Power Meter

In order to use the RS-40 VHF/UHF SWR meter, you may wish to have a chart like this, which tells you the SWR that corrresponds to a given percentage reflected power of forward power. 18% reflected --> SWR 2.5:1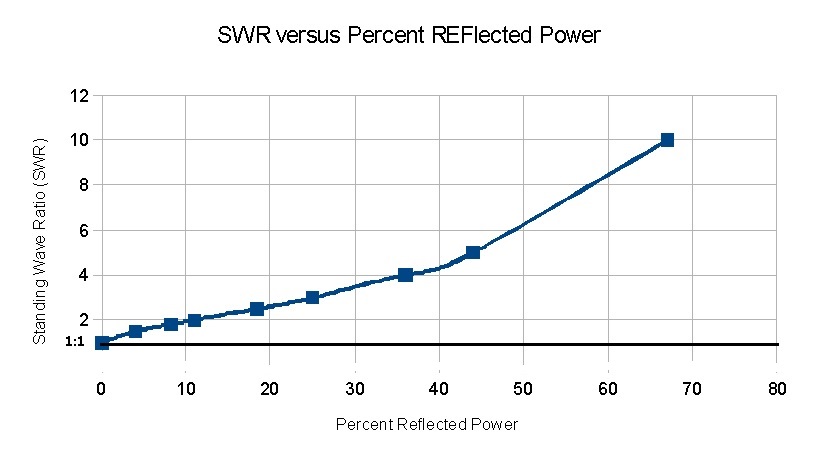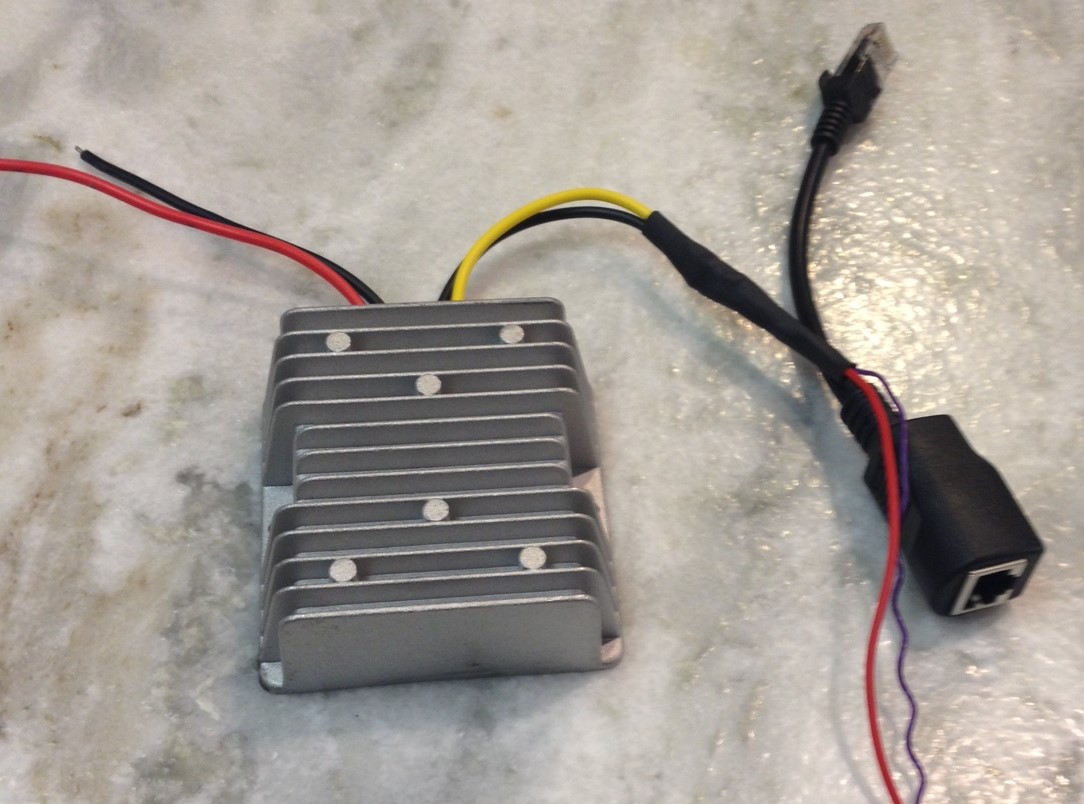 Developing portable MESH deployment go-box: 24V DC POE injector from 12VDC battery: dc-to-dc converter.
Connect red and black wires to 12 V gel cell, RJ45 connectors inject 24V for Ubiquiti mesh node.
$20 12 to 24V four-wire converter
---
FIRST GNV WEB PAGE EVER DELIVERED BY MICROWAVE HAM RADIO FROM RASPBERRY SERVER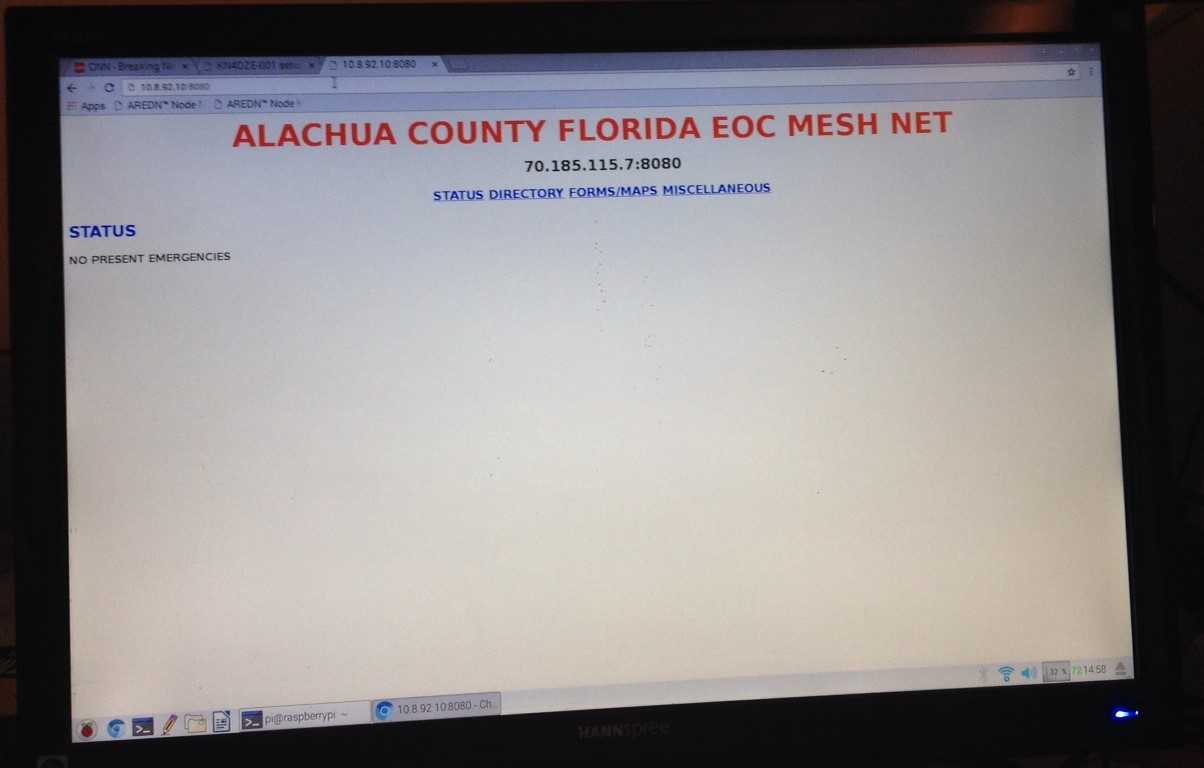 Tom Cox, Gordon Gibby and Ed Gray tested Ed's Raspberry Web Server over 2.397 GHz ham radio -- and it is FAST!!! This is the first known screen (other than the AREDN internal web servers) delivered.

Additionally, we learned how to "hack into" (log in as root) the Ubiquiti devices, which are basically a Linux computer (just like the Raspberries) -- but we were careful not to foul them up. Concerning to us was the relative lack of security, however. We may adjust this.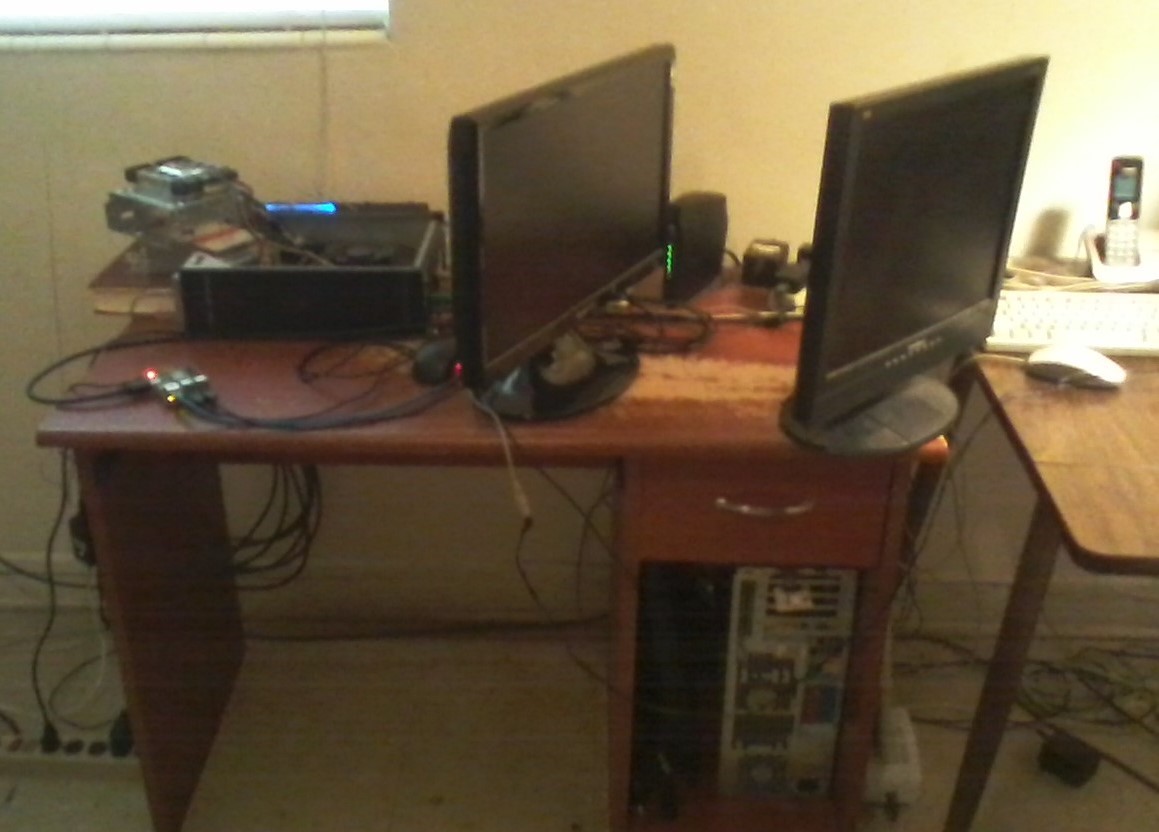 Aug 15 2017 -- Ed's initial Raspberry Pi web server to go on the MESH network (Raspberry is near the front left corner of the table)

(And assuming we ge this going, hams can use it freely for anything, not just emergency communications, just like other repeaters in Gainesville. Just no music, no Internet, advertizing, --- the standard FCC regulations apply!) VOIP works like a charm! Have your first Voice QSO on the 2.4 GHz band!!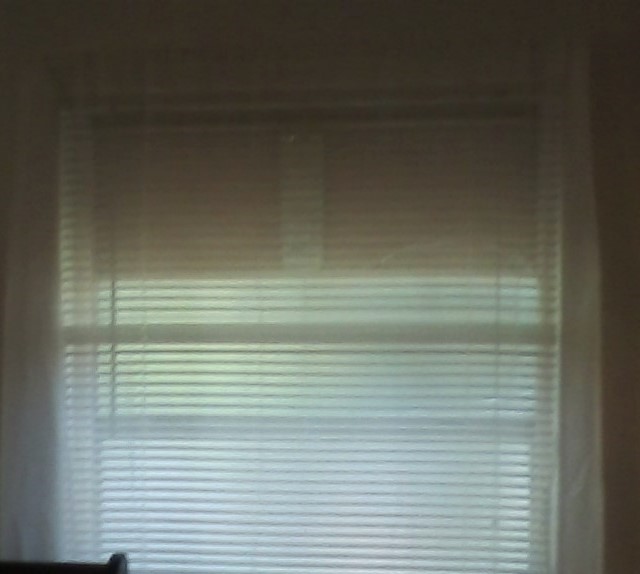 Aug 15 2017 -- A little hard to see in the glare of the sunlight, but in this photo Ed has a NanoStation mounted vertically in the top of this window. Since then, he's switched to a AirRouter 2.4 GHz of slightly newer vintage.






---



AUGUST MEETING TAUGHT SSTV & MESH



Karl's SSTV talk was extremely well received!!!!

Loads of people

were busy receiving and sending SSTV photos even while he was wrapping it up! The MESH stuff easily connected and moved web and voice traffic from one side to the other, but the packet connections weren't working at that time (since fixed). The Ga. ARES group won BIG MONEY by the ability to send a PHOTO to an Em. Mgr to demonstrate an unknown blocked road!! So impressed them that they released $$$$ for the hams to install digital systems!



THANKS, KARL & GORDON!!!!
Teaching is WORK & we appreciate it!!






---

NORTH FLORIDA's SECOND HF HYBRID WINLINK GATEWAY GOES LIVE -- Ray, WD4SEN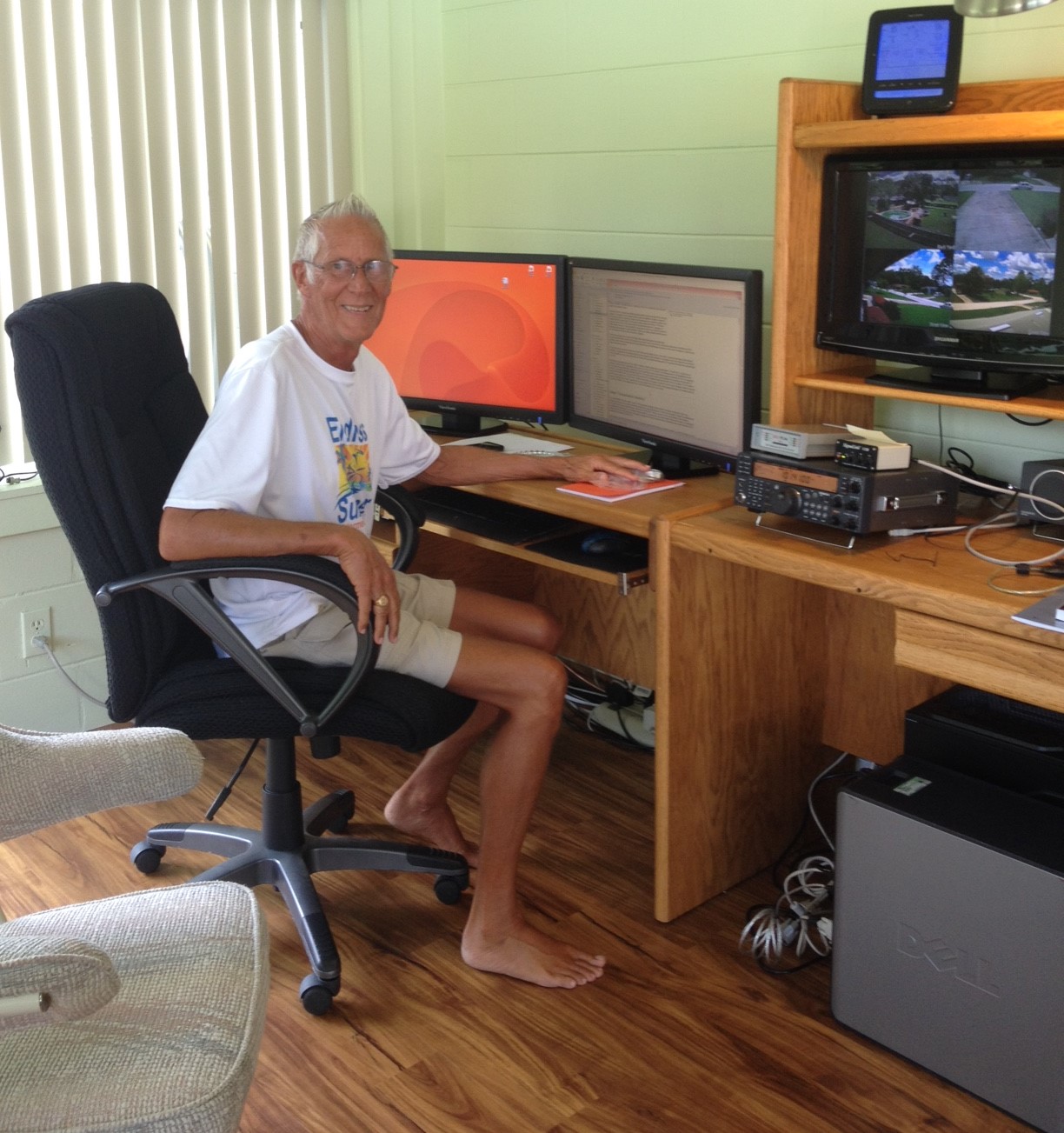 Middleburg, Florida, part of the Clay County ARES group (their "Digital" A-EC) --- running a Kenwood TS-570s, Pactor and Winmor (signalink) -- on 80/40/30 in this sunspot-deprived set of years.... Ray is a retired cardiothoracic nurse and just an all-round darn great guy. He and I worked six hours to fish out the last "bugs" from his setup....even had to solder together a 1:1 current balun at one point --- he runs FOUR vhf packet winlink gateways and will now begin working to get them funnelled into his HF FORWARDING station.
Wish *I* had a cool 50-foot tower!!!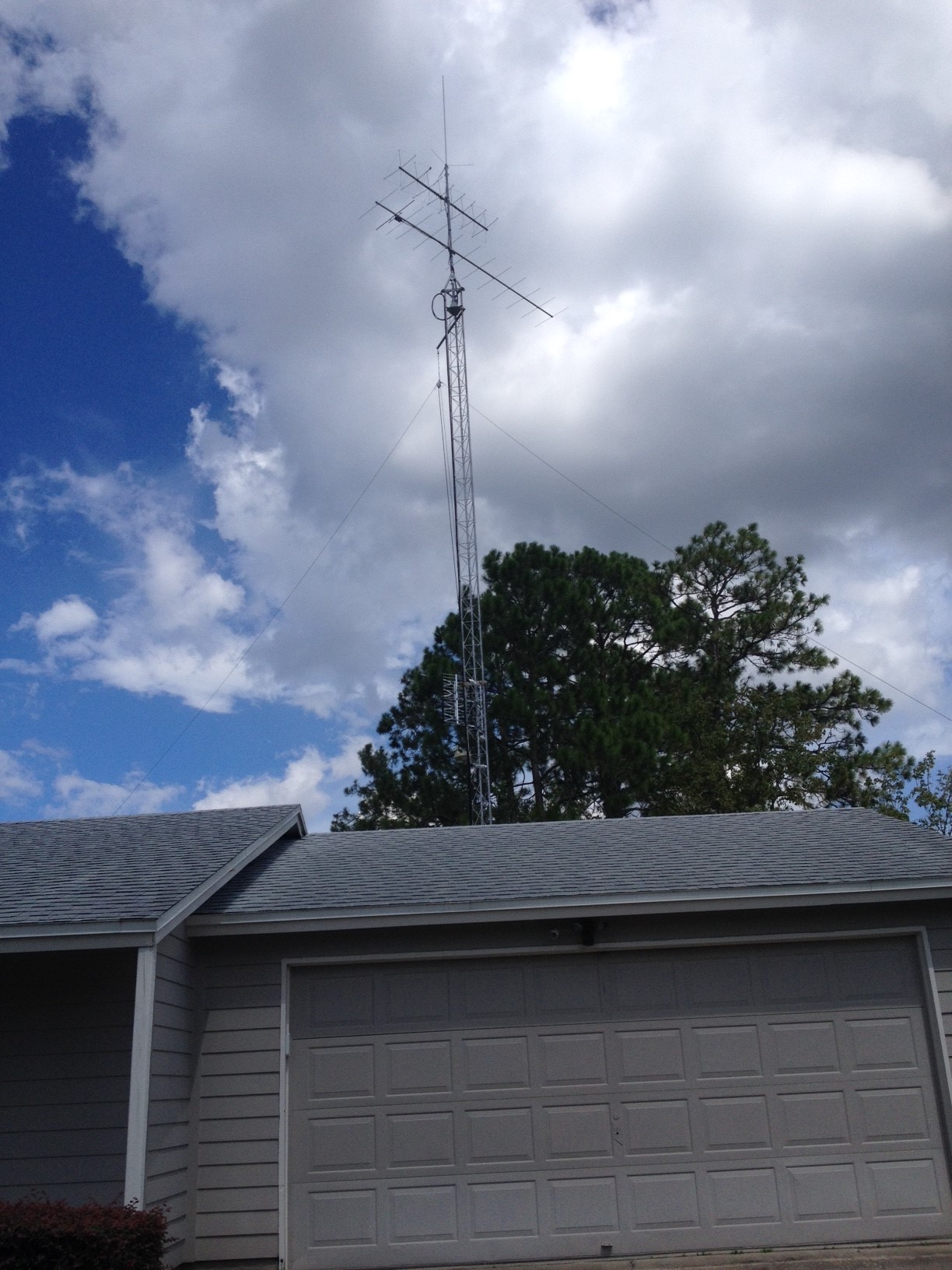 ---
FIVE ARES MEMBERS UPGRADED LICENSES on Sat Aug 5 --- FOUR NEW EXTRAs and 1 NEW GENERAL -- CONGRATS!! (and thanks to the VEs!)
---
GAINESVILLE MICROWAVE CONTACT

First ever (known) multi-mile outside ham radio 2.397 GHz QSO -- KX4Z-004 / NK3F-001 from roof of Dental Tower to Tom Cox's pine-tree antenna!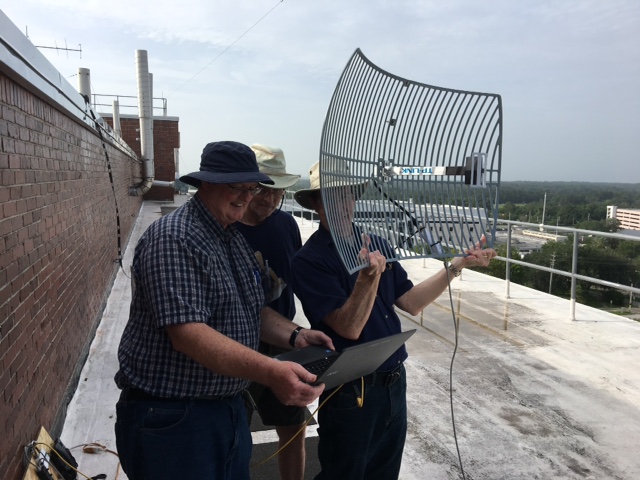 Many thanks to Jay Garlitz for getting us on that roof and snapping this photo!! Oh, and yes, this was cleared with the appropriate UF folks, who enjoyed chatting with us!
Moving the MESH antenna at Tom's: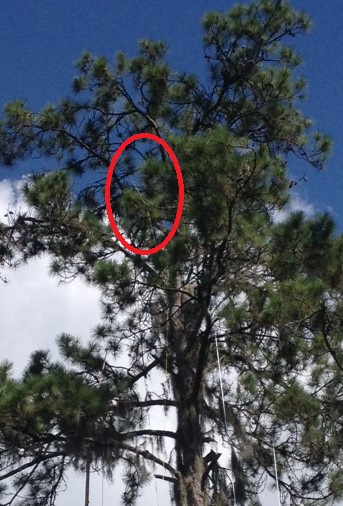 We got the rope almost to the top of his tallest tree, and put the 15dbi antenna on the SOUTHEAST side (the far side, from this vantage point) of the tree....so high we had difficulty even getting it into any picture. All you can see is the ROPE going up the NW side.... We left other ropes up in his tree. (Compare to the photo below to see how much higher we got the rope, and on the NE side of the tree.) This was HOT SWEATY WORK.

Update 8/1 Late:

The 24dBi parabolic antenna has now been assembled, and the 2nd UBIQUITI BULLET has been loaded with HAM SOFTWARE so that a prelim test from a parking deck roof can be tried.



Update 8/2:

turns out the obstructdion is a line of building/housing that obscures link from the parking deck....unsuccessful.


---
New HF WINLINK Gateway
coming on-line in the Jax Area -- WD4SEN. Having considerable "early issues" but will eventually be another HF outlet for this area -- 80 m and 40m likely good access.
---
---
---
LINK PLOTS FOR MESH


KM4YGH to Beatty
KM4YGH to Dental
Tom to Beatty
Tom To Dental

and to give you some 2 meter insight, here's a plot from NEWB to the Steinhatchee lookout tower-- watch the Fresnel zone!
Newberry to Steinhatchee on 2 meters

7/21/2017: First omnidirectional ham microwave mesh antenna up in Gainesville --- WIFI channel "-2" 5MHz bandwidth. 2,397 MHz center frequency; that ham band is 2,390-2,450 MHz. Using 5 MHz bandwidth keep us comforably inside the lower band edge!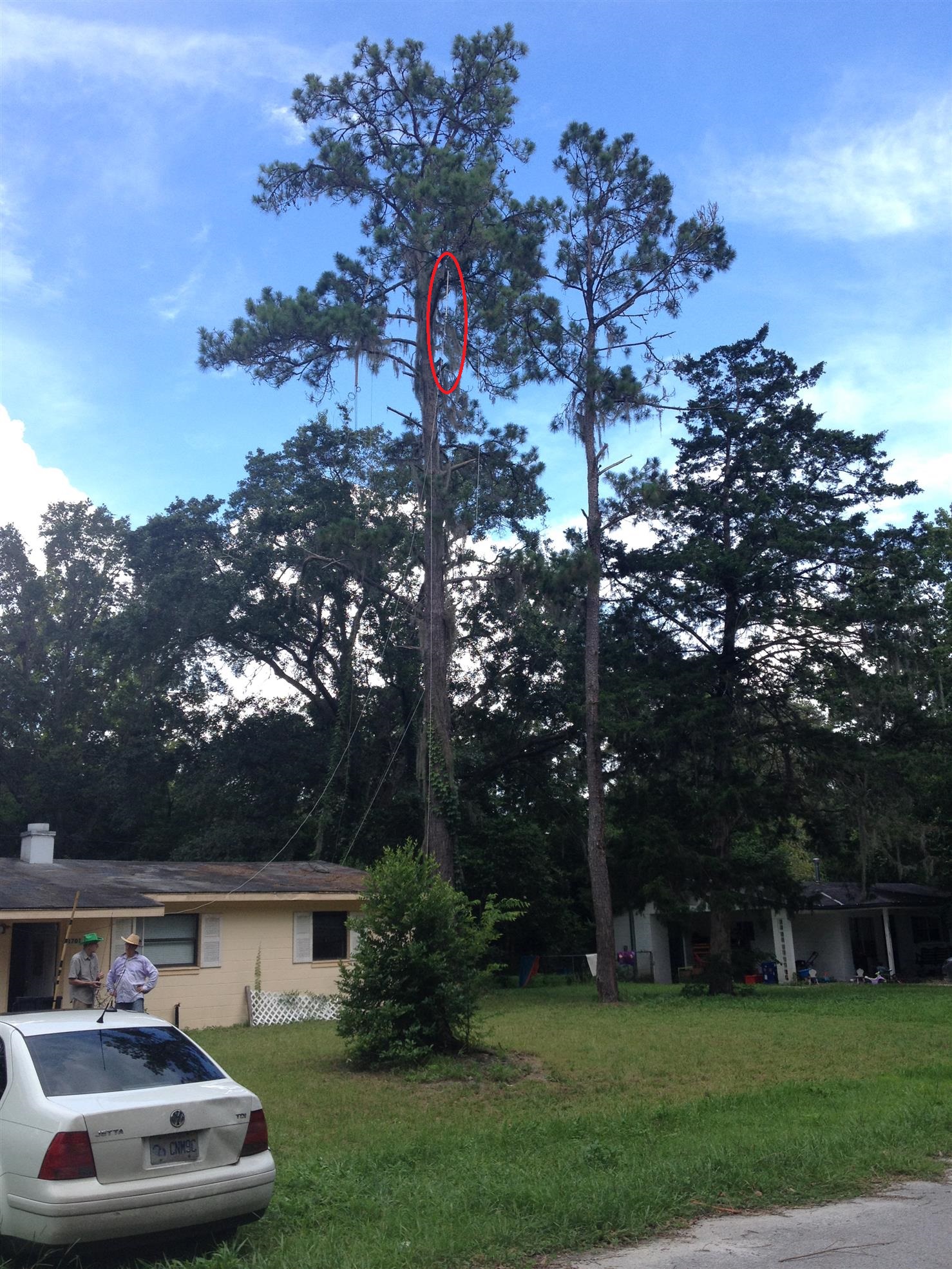 I don't know if you can see it or not, but 3/4 of the way up the tallest tree is where Tom C. got that rope with a mighty heave afer my slingshot "malfunctioned" and there's a 5 foot white collinear 2.4 GHz 15dBi antenna on the right hand side of the trunk about 45-55 feet up.
---
Yet another favorable email from the EOC on our antenna suggestions. Here's hoping implementation will occur soon. Lots of people have worked hard on this! .
Full text of EOC antenna rec
---
JULY COMPETENCE CHECK FINISHED


Six successful members completed the task in 100 hours, indicating 6/26 = 23% of ARES members succeeded.



Testing ARES hams' ability to send a digital text message by either YAPP or WINLINK (or both!) within a 100-hour trial period.


SUCCESS YAPP WINLINK




1. AC4QS yes! yes!*




2. KX4Z yes! yes!




3. W4LTE (no) yes!**




4. KC1TN (no) yes!


5. KI4QBZ (text)! (no)
6. KM4JTE (no) yes!

* = did it using keyboard access!!
** = Send it a SECOND TIME, this time over HF, via Mexico based server way way away!
Text: didn't even know this would work! Rosemary PASTED the file onto the transmit pane of EasyTerm and hit Enter --- and IT WORKED PERFECTLY!!
Congrats to Rosemary on Saturday!!


---
EOC Antennna
(After Action Improvement Plan) Results:

John Moorhouse of EOC / Ryan Lee / Jeff Bielling committed to getting EOC HF/VHF antennas in better shape, on their timetable. Decisions on which type antenna, etc. being formulated. This is much-appreciated progress after a year of effort on our part.
---
---
---
Steps Now Underway to Get CallSign for the EOC Station/Club so we will have a permanent WINLINK address / Callsign
---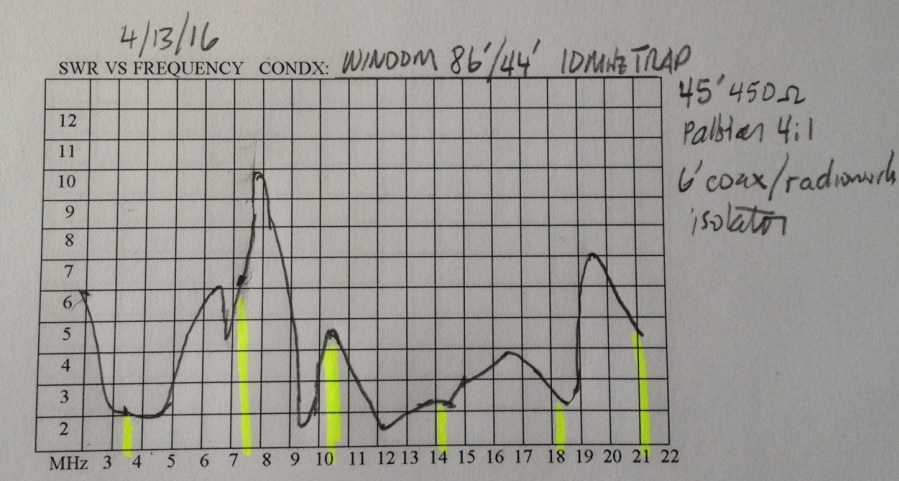 This is the SWR plot (measured every MHz or so) from an actual Windom (86feet/44feet) fed with 450 ohm window line to a 4:1 balun. A single wire antenna, designed to work over the entire 3-30 MHz range. This is one of the possibilities recommended to the EOC for Ham / SHARES high frequency antenna. This antenna includes a 10 MHz trap in the 86 foot end. Typical auto-tuners can tolerate up to SWR 10:1, and this antenna was able to be used on all ham bands with an auto tuner.
Permission received to use the Jonesboro Lookout Tower for the October S.E.T. Hurrah!
---
SEVEN HOURS of HF Training accomplished at EOC on Saturday 6/10/2017.....FOUR ad-hoc emergency antennas put up. Multiband performance with auto-tuners. TWO stations in operation, an ICOM-728 with auto-frequency control, and the EOC Yaesu.

Figured out a key power output problem with EOC Yaesu System 600 --- got output power higher. Contacted multiple WINLINK servers, also make PSK contacts. One 20 meter WINLINK connection using the EOC vertical. Lots and lots of hard, sweaty work by committed volunteers --- and we got to meet some nice Sheriff's Deputies, to boot!

Brief Presentation to Boy Scouts group. Strong work by several fishing-line hurlers!!! You know who you are!!




---
BALUNS & HOW TO MAKE THEM
HOW-TO document for making baluns
---
---
GAINESVILLE STATIONS HAVE NOW MOVED TO 145.070

---
---
Three bridging stations now connect our
145.070 network of stations to other groups: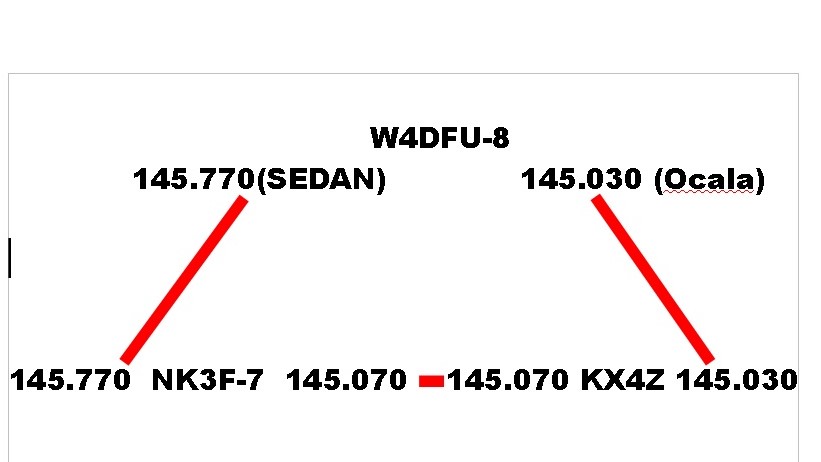 ALL PORTS WILL USE COMMON SCHEME:
Port 6 - 145.030
Port 7 = 145.070
Port 8= 145.770
---
UPCOMING MEETINGS REMINDERS
Monthly ARES Meetings: 2nd Wednesday 7 PM
Monthly GARS Meetings: 3rd Tuesday 6:30