Our best Field Day Ever! Over 500 contacts!
PreliminaryStatistics

Awesome Gainesville Sun Coverage!

Great article by Emily Mavrakis with great photos. Kudos to David Huckstep and Craig Fugate and Jim Bledsoe for this media success.
Great article by Emily Mavrakis with great photos. Kudos to David Huckstep and Craig Fugate and Jim Bledsoe for this media success.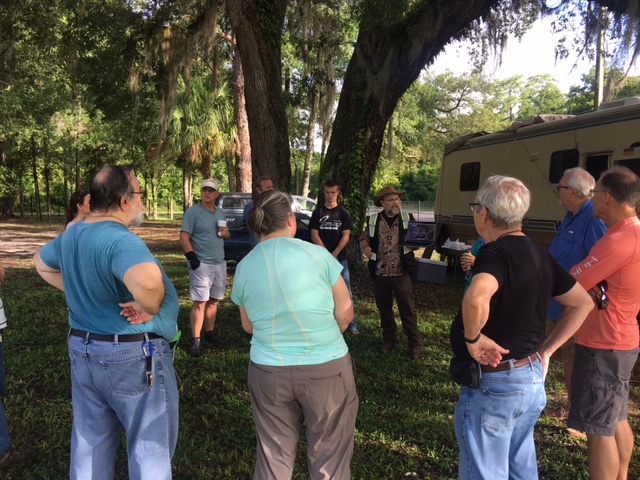 OPERATIONS (Brett) got us started with a briefing at 0830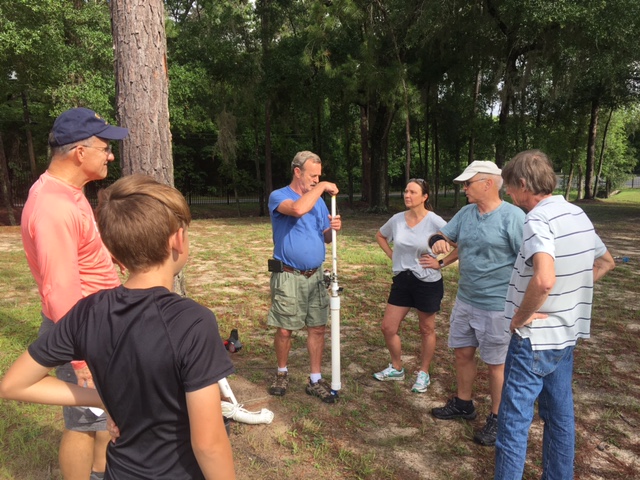 Learning new antenna skills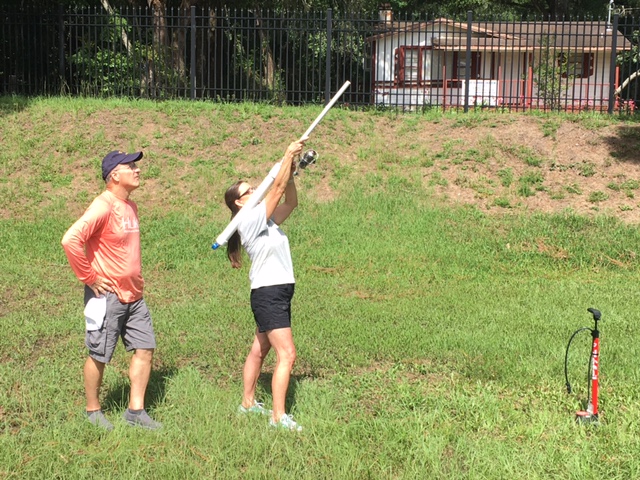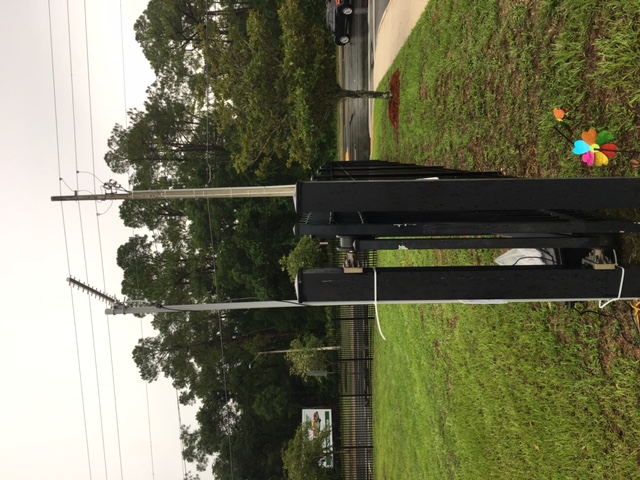 Earl's microwave network was a marvel in operation!
(2.4 GHz Yagi pictured)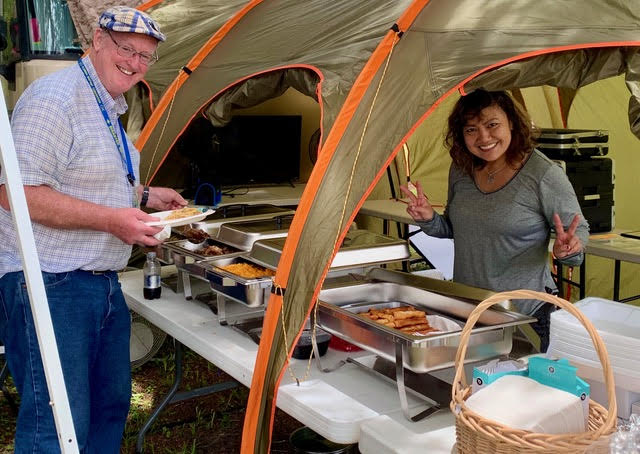 Serving hot lunch suitable for a sit-down restaurant....in a grass field? No problem for Emily!!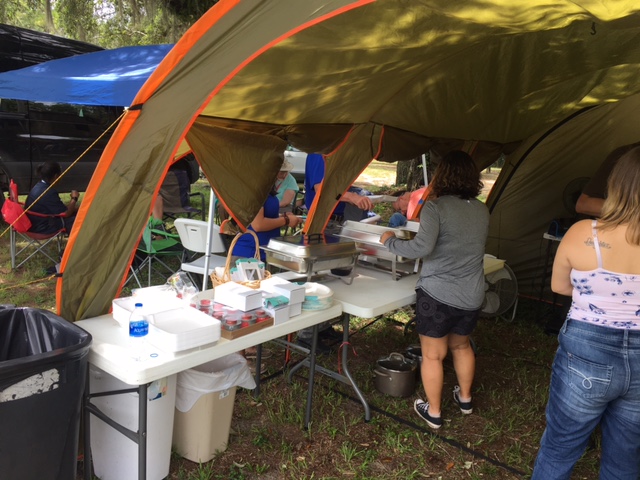 You had to be there to believe the incredible gourmet lunch that Emily served us ALL!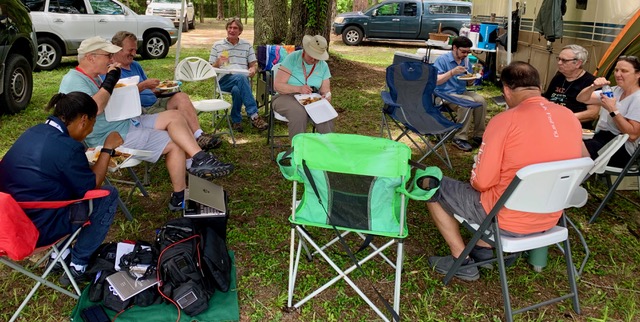 Emily had no shortage of satisfied customers!



AND THEN THE DELUGE HIT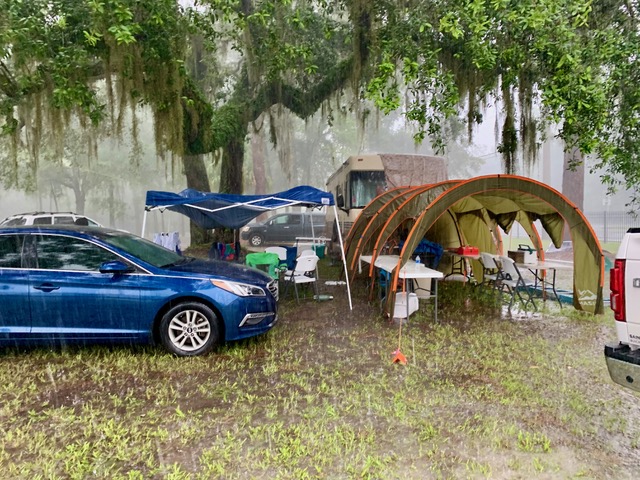 It rained SO HARD that we had 1-2" of standing water! 30mph gusts took down tents and if Amy hadn't saved the RV awning, that recently rebuilt awning would have been ripped off.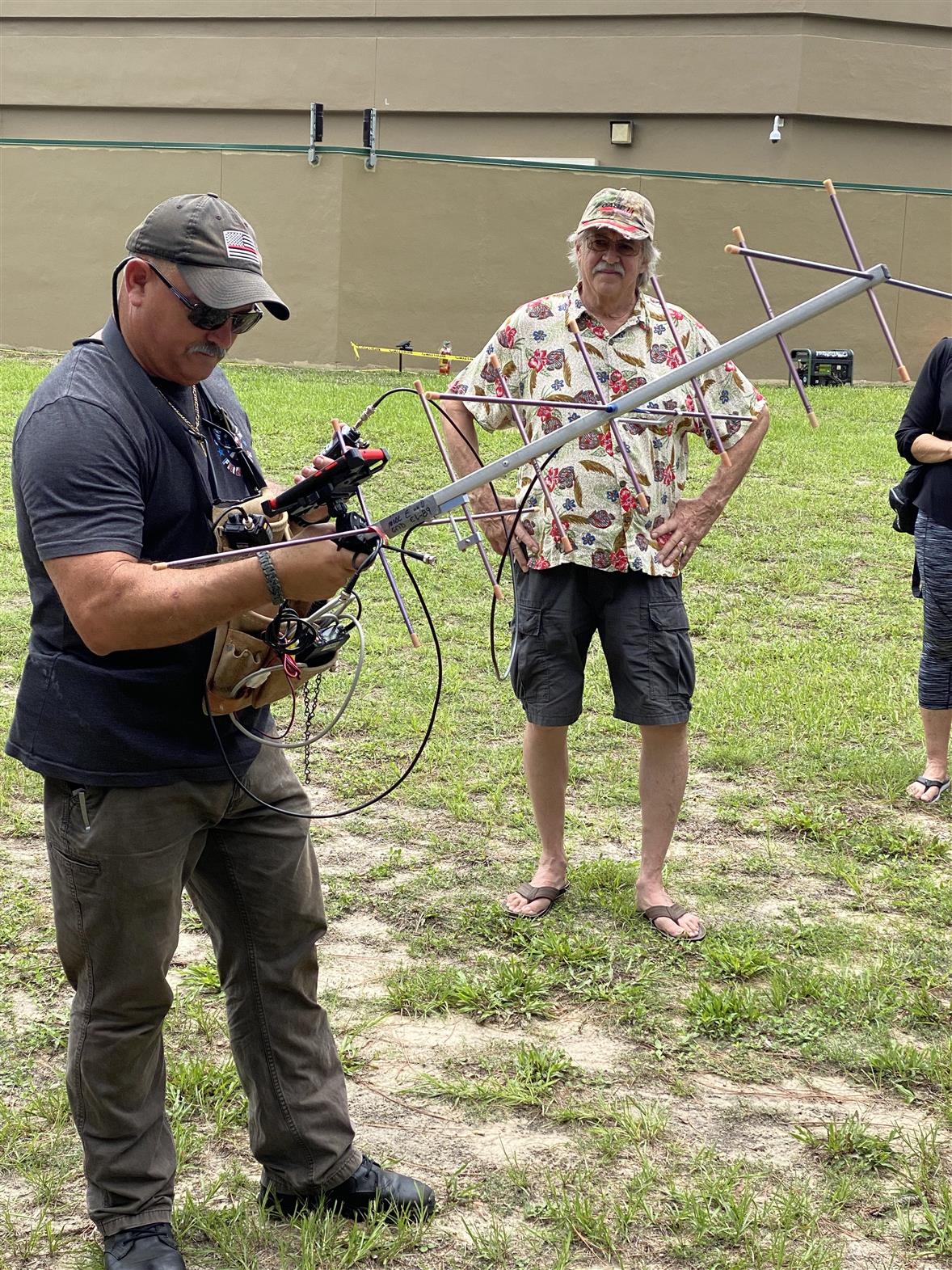 Ron Lewis our Satellite Hero teaching his craft!!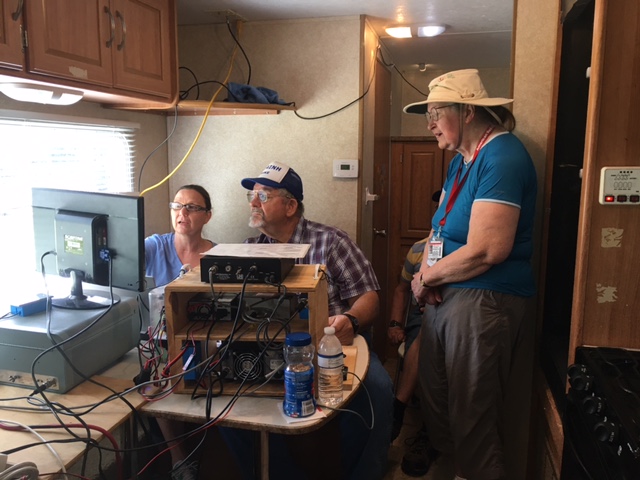 Amy Teaching FT8!!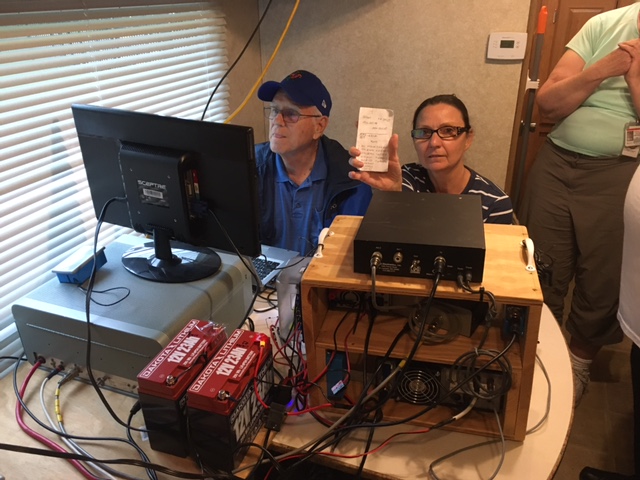 Dean Covey getting SOLAR contacts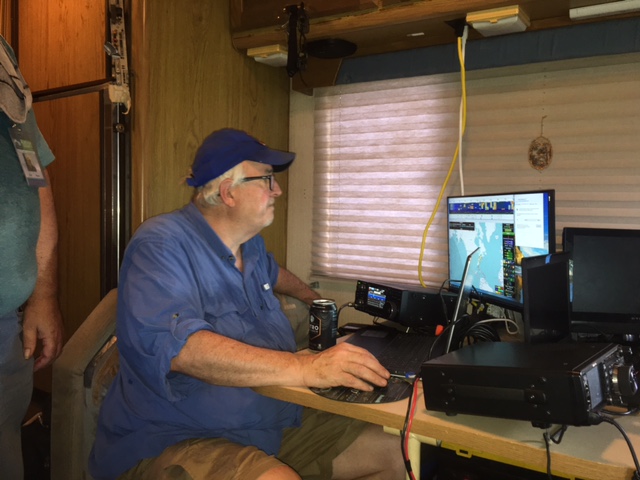 A Famous FEMA fellow hauling in tons of 6 meters!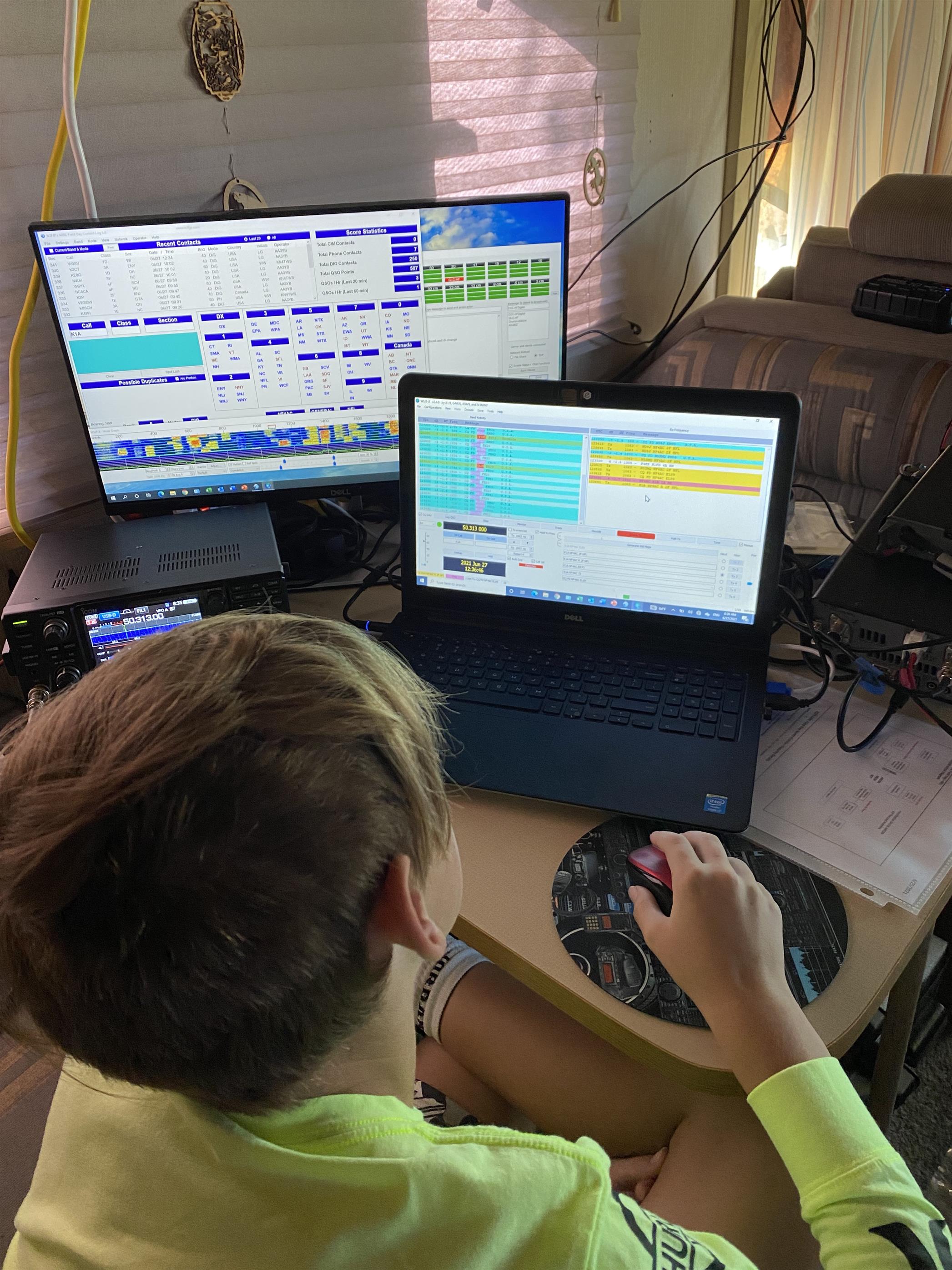 The real 6 meter champ at work!! Go, Hoyt!!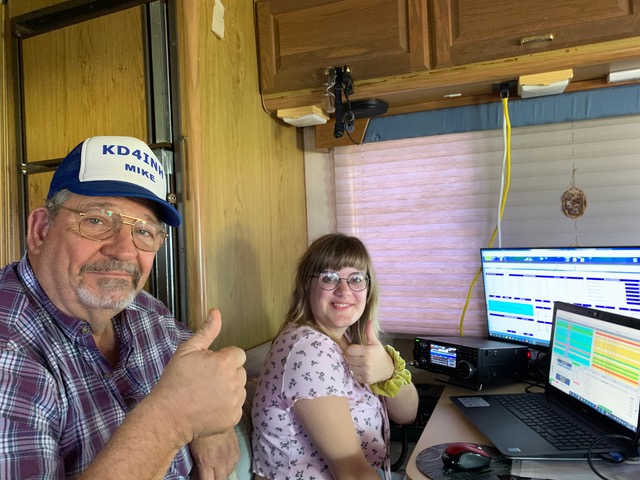 Mike & Wisper at work

Questions & Answers
CONTACT / LOGGING SUGGESTIONS
SSBContactSuggestions
FT8/FT4 Contact Suggestions
PSK31 / RTTY Contact Suggestions
CW Contact Suggestions
---
Field Day Plans - NF4AC - EOC Field Day

Home Field Day Collaborating With A Club

Bonus Points Forms

(see ICS-201 for links to word-processor versions)


OPERATIONS
Emergency Power
SectionManagerMsgBonusPoints
MessageHandlingBonusPoints
W1AWBulletinBonusPoints
EducationalActivityBonusPoints

Operations: Solar
AlternatePower(Solar)BonusPoints

Satellite Operations
SatelliteQSOBonusPoints

LOGISTICS

PIO
PublicityBonusPoints
PublicLocationBonusPoints
PublicInformationTableBonusPoints
ElectedOfficialBonusPoints
AgencyRepresentativeBonusPoints

TIME
Rough ideas of bands
EOC Inside
Station #1
(Badge req'd)

Outside


Station #2
(No badge req'd)

Backup/ 6m / 2m QSO / Winlink

PIO/GOTA


Go-Box Demo Station

SETUP 8AM-10AM

EVERYONE IS WELCOME TO JOIN IN!

Formal Courses
10 AM
Live Radio Training OPERATIONS
Formal Courses
11 AM
SOLAR POWER BASICS
Gibby / Certificate
Solar Power Module


6m INTRO
TBD
GO BOX TRAINING
TBD
LUNCH @ SONNYS Noon

EVERYONE IS WELCOME!

Last Minute Tests
Dimension 4
1 PM-2PM
Sat 2-4
(great 10M)
Gibby KX4Z**


Susan H. possible


room for more!
Palm K1CE
Tillery K9RFT
MacKenzie KK4MAC
Hasselback WB2FKO
Susan KG4VWI
Leland AA3YB
Jeff W4UFL
Sat 4-6 - Still HOT high bands--
moving toward 20M

6m may begin to crank up!
Gibby KX4Z**


Susan H possible


room for more!!
Huckstep W4JIR
Tillery K9RFT
Dean Covey KV4RL
Brett Wallace NK2KW
Amy Woods* KO4IDO
Susan KG4VWI
Leland AA3YB

Expect 6m to open!
Jeff W4UFL
Sat 6-8 PM
Every band imaginable open
Expect some 6 m!
Huckstep W4JIR
Earl Sloan KI4OXD

Mike Ridlon K4MVR
Amy Woods* KO4IDO
possibly Rosemary KI4QBZ


Susan KG4VWI
Leland AA3YB
Rosemary KI4QBZ
Sat 8-10 PM Dark
80/4/20
20 may be open to West Coast
past 10 PM!!
Sloan KI4OXD
Huckstep W4JIR
room for more!
Fugate KK4INZ
Ridlon K4MVR
Lorilyn Roberts KO4LBS
Leland AA3YB
Sat 10-MN 160 / 80 / 40
20 to West Coast
Huckstep W4JIR


Fugate KK4INZ
room for more!
Ridlon K4MVR
Leland AA3YB
Sun MN - 2AM
160/80/40
Gibby KX4Z
WIDE OPEN
Leland AA3YB
Sun 2-4 AM
160/80/40
WIDE OPEN
WIDE OPEN
Leland AA3YB
Sun 4-6 AM
You'll hear Europe on 40
WIDE OPEN
Possibly: Gibby
WIDE OPEN
Leland AA3YB
Sun 6- 8 AM
Grayline DX! No telling!
WIDE OPEN!
Possibly: Gibby
Gibby KX4Z
Leland AA3YB
Sun 8-10 AM
Higher bands heat up but 80/40 still working
Sloan KI4OXD
room for more!

Huckstep W4JIR

Leland AA3YB
Sun 10-12 Noon
Watch for 20 / 15 /10 openings
Wright KN4TWS
room for more!
Bob Guertin W1GLV
Sloan KI4OXD


Leland AA3YB
Jeff W4UFL
TEARDOWN
Noon - 1 PM
EVERYONE IS WELCOME!!
* = Specifically requesting mentoring
Leland Gallup: able to fill in anywhere
** Will move into the overnight hours as the daylight hours get filled up by other volunteers
Gordon Gibby: available as long as I get some SLEEP