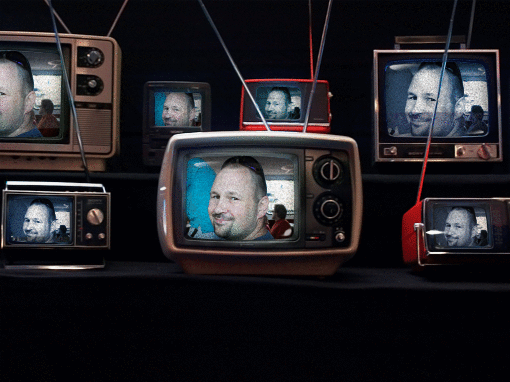 WELCOME TO WILLY'S WONDERFUL WORLD

INTRODUCTIONS: Who is this "Willy" character?
I am Willy (Paul), KB0P. I used to live in AURORA, MINNESOTA. In 2003, I moved to ISHPEMING, MICHIGAN. During the day I have a job, but during the evenings and weekends, I have hobbies. To learn what my interests include, check out my website.
Many people have asked me where the name "Willy" came from. Well, my middle name is William and I was given the nickname "Willy" in high school because there were 4 Pauls in my graduating class. But you can call me either "Willy" or "Paul".
If you have any questions about my website PLEASE click here to email me. Your input is greatly appreciated.
---
AMATEUR RADIO HOBBY: Willy's Amateur Radio World:
---
FORECAST: VHF Troposheric Ducting Forecast
Due to weather conditions, VHF 2-Meter propogation can be enhanced, allowing amateur radio operators to contact stations at further distances than what is normally not possible. Below, I reference a forecasting tool that has proven to be very accurate and helpful.

---
REPEATER LINKING: Internet Repeater Linking Projects (IRLP)
****** JOIN US ON THE AIR ******
Join us on the K8LOD Linked Repeater System, 147.270 MHz (others listed below)(100.0 Hz tone) serving Marquette, Dickenson, Alger, and Luce Counties, located on the south shore of Lake Superior in Michigan's beautiful Upper Peninsula (the U.P.). The repeater is a dedicated IRLP repeater, serving the areas with 30 Watts of RF. These repeaters are linked using RF and VoIP and is listed on Echolink as K8LOD-R (node# 420942) and on IRLP (node# 8461). Connections cannot be established between Echolink and IRLP at the same time; it's either one or the other. Therefore, if we are connected to a station using IRLP, the status of the Echolink node will show busy, and visa versa. IRLP is a 'single connection' system, meaning that we can only connect to one station at a time. The Echolink node is set up for a maximum of (3) connections at any given time. You are welcome to use either IRLP (commands preceded with #) or Echolink (commands preceded with ##) on this repeater.


The Linked Repeater System-- repeaters listed West to East:
444.850(+)(100.0 Hz)-- Iron Mountain, MI (reaches to Pembine, WI)
146.820(-)(100.0 Hz)-- Republic, MI (reaches to Crystal Falls, MI)
147.270(+)(100.0 Hz)-- Marquette, MI
146.640(-)(100.0 Hz)-- Gwinn, MI
145.410(-)(100.0 Hz)-- Wetmore/Munising, MI
147.195(+)(100.0 Hz)-- Grand Marais, MI (reaches to Newberry)

Repeater ON-AIR Instructions
Thanks to all of my friends who have worked with me and supported my repeater projects (encouragement, time, donations, etc).



---
REPEATER LINKING: ALLSTAR
****** 442.200 IS ON THE AIR ******
Join me on the KB0P/8 repeater, 442.200 UHF (100.0 Hz tone) serving Ishpeming and Negaunee areas, located on the south shore of Lake Superior in Michigan's beautiful Upper Peninsula (the U.P.). The repeater is a dedicated ALLSTAR repeater, serving the area with 25 Watts of RF. This repeater is linked using VoIP and is listed on ALLSTAR (node# 48579). The 442.200 is connected to the FM38 Repeater System in Wisconson and the the 146.460 (100.0 Hz) Simplex node in Wetmore/Munising, Michigan. On Sunday's at 9:00 PM EDT, a net is held on this repeater, hosted by the 146.760 Blackjack Repeater in Bessemer, Michigan. You are encouraged to use this ALLSTAR repeater.


REMOTE HF CONTROL
Since I travel so much for work, and living in hotels is lonely, I figured out a way to remotely control my HF Tranceiver from a remote location.


READ ABOUT MY REMOTE SETUP**coming soon**


LIVE! My Radio Activity


---
LIVE! Willy's Streaming Audio

Now, you can listen to the local VHF and UHF repeaters, online! The HARA (Marquette County) and AARC (Alger County) share a linked repeater system that I, along with the help of friends, engineered and maintain; the 147.270 (Marquette), 146.640 (Gwinn), and 443.450 (Negaunee) Repeaters serve Marquette County; the 145.410 (Munising) and 147.195 (Grand Marais) Repeaters serve Alger County. Also, listen to 444.800 (Echolink Repeater, Marquette) and 146.970 (Marquette Repeater Assoc).


---
MAPS: Willy's repeater maps
It was difficult for me to locate a useful map of the repeaters in the U.P. of Michigan. The links provided here are for the maps that I created to help out in this area. Also, I am the Michigan Administrator for Repeater Book, which is a repeater database that is becoming more popular. The information on this website is updated frequently.

---
REPEATER ARTICLES: KB0P's repeater notes
My repeater-linking career began in 1998, when I moved to Minnesota. I assisted my late friend, David WD8RFS (sk 2008), with the linking (RF linking) of the Ely, MN 147.390 repeater, to the Aurora, MN 147.240 repeater, to the Virginia, MN 145.390 repeater, to the Hibbing, MN 147.120 repeater, to the Duluth, MN 444.300 repeater. Also, I learned from my LSAC repeater friend, Pat KB8QYC, of Duluth, MN.
In 2000, the Iron Range Repeaters (WD8RFS repeaters, all listed above), were the very first Internet linked repeaters in Minnesota. Since this was 1 year before the development of ILink and 2 years before the development of Echolink, I used Vocaltec IPhone to do the linking. This VoIP link became permanent in January 2001. This was very technically challenging to say the least, because Vocaltec was NOT a linking software, rather just a VoIP software used by the general public (similar to today's Skype program). So, there were high security risks (the potential of non-hams getting into the repeater). We used a UHF (440 MHz) control link between the 2-meter repeater and my home, and at my home I put together a UHF repeater with the controller, and homebrewed VOX boards, PIC controlled logic, audio switching boards with DTMF controls, etc. It worked! With the introduction of ILink in 2001, things became much simpler and more secure.
Currently, I developed and maintain a linked repeater system in Marquette and Alger County of Michigan (owned by the HARA and the AARC clubs). This system went live in June 2006 and grew into a group of 5 repeaters, all linked together using UHF (440 MHz) RF. I also maintain my own personal linked repeater system (3 repeaters at the moment), which is equipped with an Echolink node and an IRLP node. The core of this system is 443.500 MHz, with RF links to 146.820, and 145.550. The computer control consists of a mini-ITX computer using Linux.
Below, I will begin to develop my notes into webpage form and share them with my friends, with hopes of helping others; essentially sharing with my friends that which was passed on to me by my friends and by hard-knock field experience.

Yaesu DR-1X FUSION Repeater (C4FM FMDA AMS) Notes

FUSION TEST NOTES
---
REVIEWS: Willy's product reviews:
This area is still under construction. I will add articles as time permits. If you have any questions, please click here to email me.

---
WILLY'S NEIGHBORHOOD
The Whippoorwill visits my neighborhood every summer. I first heard the Whippoorwill during the summer of 1978 when I was young, and the tradition continues today for my children to enjoy. The Whippoorwill comes out about 10:00 PM every night during the summer, and sings all night long. As a kid, I enjoyed opening my window and listening to the bird all night long. Today, I still enjoy the song of the Whippoorwill.
---
WILLY'S OTHER TIME-WASTING INTERESTS
---
MY QSL CARD. 73 and thank you for visiting.