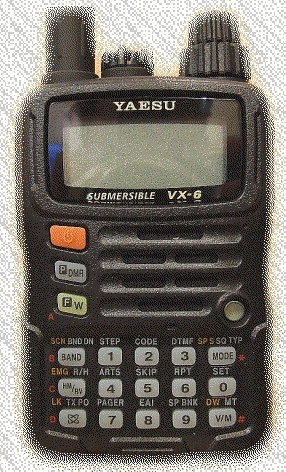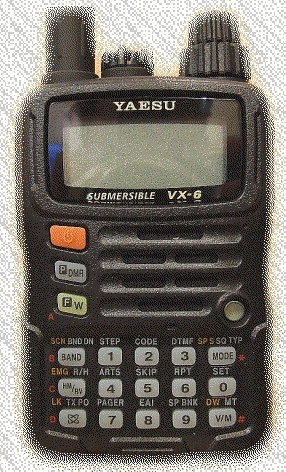 W6SD .-- -.... ... -..
Founded in 1946 at the end of WWII, our club has been true to one simple philosophy --
help others and have fun doing it.
February 2015 Carrier Graphical
Click on the link below for the form:
SFVARC Membership Application & Renewal Form
Latest Information
You are invited to attend the next meeting of the SFVARC, which Arnie Schwartz, WB6PJC, will be the presenter. The presentation will be at the Northridge Hospital, 5th floor on February 20th, at 7:30 PM. This presentation will be a very unusual presentation, as the presenter will be acting as if he were a 4th dimensional Hologram from 1923. As such, the presenter will be acting as an Atwater Kent salesperson back in 1923. He will be introducing the new 1923 Atwater Kent Radiodyne Tuned Radio Frequency (TRF) receiving set, which was considered the Wonder Set of its' time! A handout brochure will be passed out.
The following topics will be discussed:
1. How affordable this radio can be using the monthly payment plan 1 Atwater Kent Model 10-4340 Radiodyne Radio = $88.00 5 of 201A Vacuum Tubes @ $6.50 each = $32.50 1 Atwater Kent Model M 22.5" Loud Speaker = $40.00 Sub Total = 160.50
Total @ $7 a month for 24 months = $168.00
2. How to make your own indoor or outdoor antenna or have one professionally installed.
3. How to use an ordinary water pipe to use as the Radio's Ground.
4. What type of radio tubes to purchase and their cost.
5. How to use your car's battery to supply 6 volts to the radio's A+ & A- terminals.
6. How to connect two 221/2 volt batteries in series to use for the detector tube's 45 volt DC plate voltage and adding two more 22½ volt batteries connected in series to supply 90 volts DC to each of the other tubes plates through the B+ & B- terminals on the radio. Batteries were purchased separately and replaced when needed.
7. Whether to purchase a loud speaker, earphones or phonograph adapter.
8. How to adjust the 3 Rheostats and the feedback control on the radio.
9. How to tune in a radio station using the 3 dial settings.
10. Whether to select the short wire or long wire antenna settings.
11. The radio will then be turned on and a radio station will be tuned in.
12. The presenter will then answer questions from the audience Prior to concluding the presentation, the presenter will ask if anyone from the audience would like to come up and try to tune in a radio station. After which, the presenter will excuse himself and tell the audience that his grandson from the future will answer any modern day questions.
---
For hams new to DX, The New DXer's Handbook, written by Bryce Anderson, K7UA, is a must read. It is about 40 pages in length and answers all the questions. Best of all, it is a free download.
Thank you Mark, K6FG
HR.4969
A bill with bipartisan support has been introduced in the US House
of Representatives that calls on the FCC to apply the "reasonable
accommodation" three-part test of the PRB-1 federal pre-emption
policy to private land-use restrictions. HR.4969, the "Amateur Radio
Parity Act of 2014" was introduced on June 25 at the request of the
ARRL, which worked with House staffers to draft the proposed
legislation. The bill's sponsor is Rep Adam Kinzinger (R-IL). It has
initial co-sponsorship from Rep Joe Courtney (D-CT). If the measure
passes the 113th Congress, it would require the FCC, within 120 days
of the Bill's passage, to amend the Part 97 Amateur Service rules to
apply PRB-1 coverage to include homeowners' association regulations
and deed restrictions, often referred to as "covenants, conditions,
and restrictions" (CC&Rs). Presently, PRB-1 only applies to state
and local zoning laws and ordinances.
Read more
Write a letter to Congress to support our hobby and to save lives during a disaster.

Want to order a club badge? Go here!
The SFVARC badge comes standard with a safety pin fastener and may
also be ordered with other fasteners. Click here to see optional fasteners.
---
LENORE JENSEN, W6NAZ, PHONE PATCHING TO VIETNAM VIA MARS

---
Vintage ARRL ham radio movie converted from
16mm film to video tape many years ago.
---
Here's is one more YouTube video you will enjoy:

Monthly Meetings
General Meeting third Friday of every month at 7:30pm.
We are located at the Northridge Medical Center Hospital.
18300 Roscoe Blvd.
Northridge, CA 91325
5th floor Penthouse
Lunch at Denny's every Thursday @ 10:00am
Several members of the club gather for lunch on:
Thursdays at 10:00 a.m. at Denny's.
16575 Sherman Way
Van Nuys, CA 91406-3732
(818) 994-0952
Everyone is welcome to attend.
The San Fernando Valley Amateur Radio Club offers, to a licensed ham, a simplex net on 2 meters. The net is held every Tuesday evening at 20:00 local time on 145.570 MHz. All amateurs are welcome to check-in.
We hold 2m Repeater Net every Thursday Evening (with some exceptions) at 20:00 local time on the Magic Mountain Machine at 147.735 MHz, with a transmit offset down (-) 600 KHz and a PL tone of 100 Hz. If Magic is down or unavailable, we will meet on the Duck Mountain Machine at 147.240 MHz, with a plus (+) transmit offset and no PL tone. All amateurs are welcome to check in.
A High Frequency Net on Wednesday Evenings at 20:00 local time. This net takes place at 28.310 MHz +/- QRM. This is in the Upper Side Band Mode. All amateurs are welcome to check in.
The San Fernando Valley Amateur Radio Club would like to extend a special thanks to the owner of the Magic Mountain Repeater, Dennis, KB6C, for allowing us to use his repeater each and every week for our nets.
Every year we participate in the ARRL Field Day. This year it is June 22-23, 2013 (Always The Fourth Full Weekend In June.)